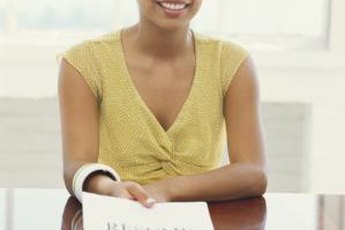 i
Stockbyte/Stockbyte/Getty Images
An objective statement is opportunity to add a little more emphasis to your resume and grab the recruiter's attention right off the bat. It can set you apart from the slew of other candidates the busy hospital human resources person may have to endure. Usually the top section on the resume after your contact info, the objective statement is not the place to write about what you want, but is used to tell recruiters what you can do for them, according to recruiter Arnie Fertig in ''U.S. News and World Report.'' So don't waste the space. Use it wisely.
Give it Sharp Focus
Your resume may get a really long look from the recruiter – like maybe six seconds. According to Baylor University, you'll be lucky to get two to 2.5 seconds of her time with a poorly written, unfocused resume. Particularly if you're looking for a gig at a big hospital or practice that goes through this process regularly, your resume needs to be sharp and to the point immediately – and the objective statement can do that. Put the job title in the objective and let the recruiter know you are eager to start. "Emergency room nurse," "Night shift CNA," "Radiologist" are the words you want to lead with on the objective. Don't waste the space with a word like "I."
Highlight Credentials
In the health care field, credentials and licenses are vital. Without certain creds, you can't even be considered for a lot of clinical jobs. So save the recruiter time and let her know you are qualified for the positions by writing an objective statement that verifies your credibility. Use terms like "licensed RN," and "CNA with current registry listing." Don't make her hunt all over the resume to find out if she should even read any further.
Pack it with Passion
An objective statement is typically one sentence, two at the most. Pack it full of power words like "advanced," "extensive" and "highly proficient." Then give them the skills they asked for in the ad like "team player," "attention to detail" and "activities of daily living skills." Describe yourself in the most glowing terms in the objective to pique the recruiter's interest. Imagine, in one sentence, that she can see you're qualified and you have exceptional skills.
Fill it with Action
In the same two simple sentences, you should be able to tell the recruiter how you'll put those credentials and qualifications to use for the facility. Use terms that infer results, such as "increase patient satisfaction," "improve hospital profits," or "strengthen practice operations." Give her enough information in the objective to let her feel your energy and enthusiasm for the job. Stay away from lame lines like "seeking a job," and "to obtain a position." They are taker phrases, not the kind of words that instill confidence in your patient-caring abilities or compassion and certainly not giving phrases.
References
Writer Bio
Linda Ray is an award-winning journalist with more than 20 years reporting experience. She's covered business for newspapers and magazines, including the "Greenville News," "Success Magazine" and "American City Business Journals." Ray holds a journalism degree and teaches writing, career development and an FDIC course called "Money Smart."