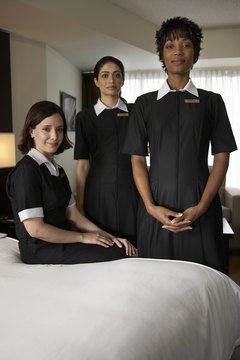 As a maid or housekeeper, you do more than rely on expert cleaning skills. You practice teamwork when working with other maids and display good interpersonal skills by being friendly, polite and attentive. More importantly, you free up your customer's time so she can do more important things. To be effective, your resume must reflect all these aspects of your job.
Resumes
If you're looking for a job as a maid or housekeeper, include your qualifications and work experience in your resume. A "Special Skills" section can highlight your unique abilities that you don't ordinarily use on the job. For example, you can list your command of more than one language, which is helpful when communicating with non-English-speaking workers, or your ability to lift objects of a certain weight, which helps with moving furniture. If you're posting your resume online, include key words that potential employers use to find workers like you -- some examples include maid, housekeeper, cleaner, environmental services and room attendant.
Qualifications
You don't need formal education to work as a maid. For some tasks, basic life skills are all you need, and for others, you can learn on the job under more experienced workers or supervisors. Your personality and character traits are more important. As a maid or housekeeper you need stamina to stay on your feet for most of your shift, and the ability to bend and stretch for long periods of time. You also need to have good attention to detail, and be able to follow established cleaning procedures to ensure that your rooms are spotless. Finally, interpersonal skills are necessary because you're dealing with other maids, supervisors, and customers.
Duties
Maids and housekeeper do general cleaning, which can include sweeping hallways, dusting furniture and washing windows. The start of a work shift involves checking supplies, and refilling any that are running low. You can then vacuum rugs and carpets, wax and polish floors, and empty wastebaskets. Depending on your employer, you may change bed sheets and linens; replace used customer supplies, such as toiletries; and wash and iron laundry. Some homeowners may ask you to run errands, pick up groceries and prepare meals, especially if they are elderly.
Job Outlook
The U.S. Bureau of Labor Statistics expects jobs for maids and housekeepers to increase by eight percent from 2010 to 2020, which compares to a 14 percent growth for all jobs in all occupations. Many jobs will come from hotels because a growing population and expanding economy encourages more travel. There will also be more opportunities as many individuals and businesses contract out their housekeeping work. Finally, new maids and housekeepers are needed to replace those that are retiring during this decade.
Photo Credits
Darrin Klimek/Digital Vision/Getty Images