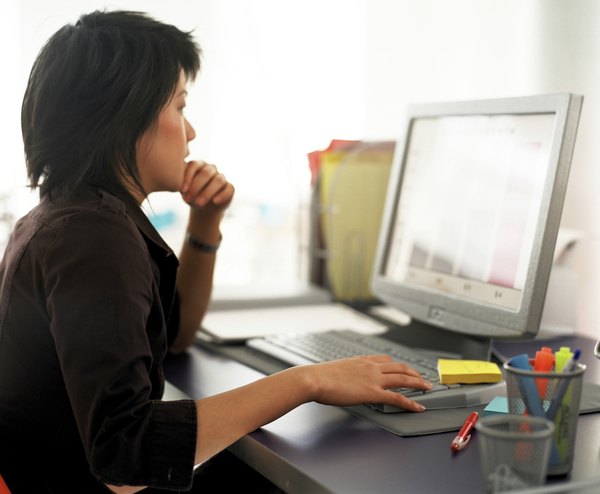 Research or market research analysts serve as beacons for companies. They keep track of customers so they can recommend the best strategies in competitive markets. You may work for a retailer, restaurant, hospital or consumer products company as a research analyst. Your excellent communication, analytical and critical-thinking skills can help you to excel at your job. And, job opportunities look promising. The Bureau of Labor Statistics, or BLS, expects the number of research analyst jobs to increase by 41 percent between 2010 and 2020.
Analytical Duties
As a research analyst, you would develop questionnaires to measure customer satisfaction. You may then hire a marketing research agency to conduct the surveys. Once the surveys are completed, you would analyze the results, write reports and present your key findings to managers and company executives. You may also use surveys to track the results of advertising campaigns. Research analysts also use surveys and past sales trends to develop sales forecasts for sales managers.
Strategic Duties
Certain strategic duties may also be part of your research analyst job description. For example, you may work on a team of marketers and financial managers that needs to test a new product introduction. During the first month, your duties may include comparing sales and customer purchases to those of other successful products. You may also use surveys to determine the percentage of people who bought the product, their desired price range, and whether they plan to purchase it again. You could then help the team tweak the product offering to maximize sales and profits.
Work Environment
You would likely be under a certain degree of stress as a research analyst. These professionals manage many projects simultaneously, and they must meet important deadlines. You would likely work Monday to Friday during the day, but occasional evenings and weekends are common. If you don't work for a manufacturer, you may be employed by a marketing research agency. These companies work with many clients, not just one employer. About 5 percent of research analysts are self-employed, according to the BLS.
Education and Training
Most research analysts have bachelors' degrees in marketing research, marketing or a related field. Some may also have degrees in math or statistics because of the vast amount of data used. However, you may consider getting a master's degree in research or business, which would likely increase your employment opportunties. Most of your training would be on the job. Internships are available at some colleges, which often can turn into furture employment opportunities. You may also consider obtaining a Professional Research Certification through the Market Research Association. You must have three years work experience to qualify for this certification, according to the BLS.
Salary Ranges
Expect to earn about $67,130 per year, on average, as a research analyst, according to May 2011 data from the BLS. If you are among the top 10 percent, you'd make over $112,560 annually. You would earn the highest annual income in the automobile manufacturing industry at $99,320. The top-paying states for this field were Delaware and Washington - - $81,070 and $78,620 per year, respectively.
2016 Salary Information for Market Research Analysts
Market research analysts earned a median annual salary of $62,560 in 2016, according to the U.S. Bureau of Labor Statistics. On the low end, market research analysts earned a 25th percentile salary of $45,550, meaning 75 percent earned more than this amount. The 75th percentile salary is $88,260, meaning 25 percent earn more. In 2016, 595,400 people were employed in the U.S. as market research analysts.