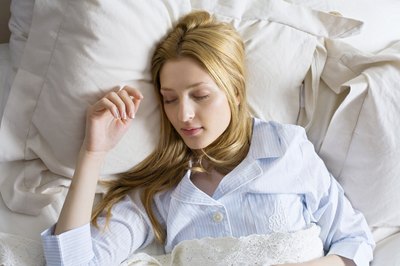 A sleep-study scoring technician is a responsible job in the medical field. Sleep studies are ordered for people who are having poor sleep, and the study determines what problem they have. For example, if you have restless leg syndrome, your sleep will be bad and a sleep study can provide the answer for why. Sleep techs study the information from a sleep-study participant to create information that is clear and easy to understand. You can get hired with just a high school diploma and get your education and certification afterwards.
Certification
The most basic addition to your resume as a sleep technician is to become a certified polysomnographic technician. All you need to qualify for the certification test is to work as a sleep tech for three months and finish a self-study program. Once you've met their eligibility requirements, you can submit an application with your test fee of $240 and schedule your test. You only have two attempts at this test in your lifetime, so be sure you're ready before you apply for the test. The test will last for two hours and has 75 multiple-choice questions. They scale the test results from 200 to 500, and a passing score is 350. Your certification will last for three years and cannot be renewed.
Registration
A longer lasting certification option is to become a registered polysomnographic technologist. To qualify for this exam, you must have about a year of on-the-job experience and complete a self-study program, just like you did for the certification in the previous section. If you already have the certification from the previous section, you only need six months of work experience. This test is more expensive than the certification test, at $450, and is also longer. You will have four hours to complete two hundred multiple-choice questions. As with the certification option, the score will be scaled and a 350 is required to pass.
Associate Degree Programs
If you prefer an educational option, you can get an associate of applied science degree in polysomnography. This is a two year program that you can find at many community colleges. Finishing this shows that you understand the kinds of things that are diagnosed in sleep studies and how the technology works, which will make it easier to get hired as you'll require less time to train than an uneducated candidate.
Polysomnographic Technician
If you like the idea of education, but don't want to spend two years on training, you can get the one year polysomnographic technician certificate. This isn't offered everywhere, but if you can find it, you can get your certificate in just three semesters. These courses are usually offered every year, starting in the fall semester and ending after the summer semester. This is a relatively fast and easy choice for people who want to be sleep technicians.
Photo Credits
Creatas Images/Creatas/Getty Images