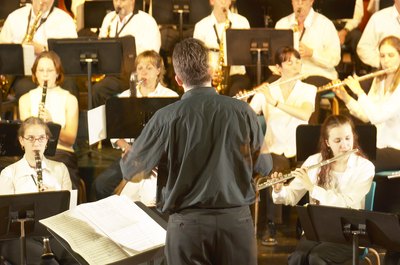 In "The Creative Director," Edward Lisk says many who choose a career as band director start considering it in high school, encouraged by band directors and private music instructors. He explains the importance of mastery of a primary instrument and a deep understanding of music literature to a band director's success. Being a musician with a strong performance background is important when conducting or directing other musicians.
Skills and Abilities
Kathleen Dishion, the band director for Adams Central Community Schools in Monroe, Indiana, was in her high school marching band, where she made the decision to become a band director to be involved in music and share music every day. Skills she says are required as a band director include knowledge of music history and theory, a working knowledge of orchestral instruments, ability to read music and interpret musical scores and a good ear for music. She adds that good people and administrative skills, creativity and professionalism are also very important to her band director career. The U.S.Bureau of Labor Statistics reports that people skills are important qualities for band directors, who work with student musicians, parents and school administrators.
High School Preparation
In "What it Takes to Be a Music Major," Louis A. Menchaca, an associate professor of music at Concordia University Wisconsin, recommends high school students participate in a range of activities and experiences to prepare for college music degree programs. He says band experience should be supplemented with private lessons. He recommends some kind of study or learning exposure to music notation for an understanding of music theory topics such as rhythmic values, meter signatures, form, intervals and triads, scales and key relationships. He recommends high school students who intend to pursue a music major learn the keyboard skills they'll need in college music courses.
College Education and Preparation
The BLS reports that a bachelor's degree is commonly required for music directors. Dishion majored in instrumental/general music education and became certified to teach kindergarten through high school music, band or orchestra. She also student taught in beginning and high school band and was undergraduate production assistant for University Singers. Degrees in music education include courses in topics such as music in world cultures, music systems, music technology and courses in individual instruments, including piano, strings, brass, percussion and woodwinds.
Musical Experience
Band directors must have musical experience performance of their primary instrument in solo performance and in group performance such as ensemble and orchestral performance. Dishion recommends getting involved in as many different musical experiences as possible to prepare for a career in music. Lisk explains that performance provides depth of awareness and understanding of music that band directors need to lead student musicians. The most successful band directors have a foundation of years of practice with a primary instrument and performance skills.
References
The Creative Director: Conductor, Teacher, Leader; Edward S. Lisk
Photo Credits
Hemera Technologies/AbleStock.com/Getty Images