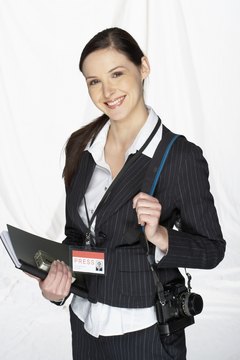 Being a journalist can be an exciting job that can take you around the world and put you in the public eye. Though gender barriers are no longer as dominant in the profession, there are still some special considerations women pursuing journalism should think about, and take the time to review reliable sources before committing to the career.
Outlook
Journalism is a demanding, research-driven career that usually is supported by a university degree in the field. Many people will never reach their goal of landing a news anchor job, featured columnist or editor position. Media mergers, decreased advertising revenue and an emphasis on hiring commentators rather than news collectors will see the journalism industry decline by 8 percent from 2010 to 2020, according to the U.S. Bureau of Labor Statistics (BLS). According to research by the Women's Media Center, the decay of the newspaper industry will also mean a decline of jobs for female journalists. About 14,971 women were employed in newsrooms in 2012, down from 20,323 in 1999, according to the research. Meanwhile, the whole industry appears frozen at 1999 levels, the Center says, with men still dominating a 3:1 front-page bylines ratio and just 34 percent of supervisory positions being occupied by women.
Considerations
In journalism, each beat and medium can bring special considerations where gender may have an impact. For example, some women working in television may feel there is an over-emphasis on appearance. Also a woman covering sports leagues such as the NHL or NFL may encounter some barriers when dealing with athletes and locker rooms, or she may feel like she has to work harder to prove her expertise to a male-dominated fan base. Meanwhile, a woman covering the fashion industry may find she has more access to the models and is writing articles that may be of more interest to a female readership. Meanwhile, cultural and societal norms play a role when on assignment in another country where gender roles and equality may be different. For example, a female journalist may be expected to dress very modestly or may have difficulty accessing male sources in Middle Eastern countries.
Mentor
When deciding to be a journalist, it is important to get a mentor. A newswoman working at a local newspaper, as a broadcaster or even a university professor will be able to give you honest accounts of her experience breaking into the industry and the types of challenges or discrimination she may have faced, if any. She will also be able to present you with coping strategies and advice as you start your career.
Books
Many female journalists write books about their experiences on the job. Particularly famous journalists will also have biographies written about them. Read these books. They will give you insight into the types of adventures that may be waiting for you, but will also give you perspective on what to expect in the field. It may also give you insight on how things have changed and the advancements women have made in the field. Knowing that even the most high-profile journalists have encountered similar challenges can be helpful when launching your career.
Current Journalists
Watch and read stories submitted by your favorite female journalists. Many news organizations, such as BBC and CNN, will also have special coverage on major stories involving journalists. For example, if a female journalist was killed or if one of their reporters was taken hostage. Often female reporters will write blogs or columns either during or after their assignments, which provide perspective and details about their experiences.
Join Associations
Many associations exist that are directed at women in the media, such as the Association of Women Journalists, National Association of Press Women and the International Women's Media Foundation. These organizations, as well as universities offering journalism courses, often host seminars and workshops focusing on issues facing female journalists nationally and internationally. Not only is this an opportunity to learn more about the challenges in the industry, it provides a great opportunity to network and meet other women in the field.
Photo Credits
Jupiterimages/Photos.com/Getty Images