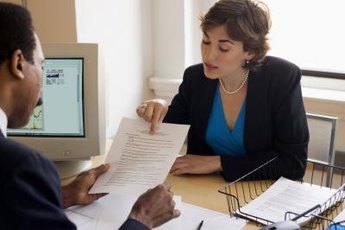 i
Creatas Images/Creatas/Getty Images
Many employees associate their annual performance reviews with nervousness and dread. Human resources professionals suggest that you use that face time with your supervisor to your advantage instead of preparing for a yearly showdown. A more effective approach involves building a comfortable rapport with your supervisor and developing specific questions to ask your boss regarding job performance.
Timing
Partner with your manager on a regular basis instead of waiting until your review to ponder the direction that your career is following. Establish a regular schedule for one-on-one conversations, such as monthly 60-minute meetings. Always ask her to highlight your strengths, in addition to offering recommendations for improvements. Request detailed examples that illustrate your strong points as well as your weaknesses. If your supervisor wants you to handle customer complaints more effectively, ask her for particular instances when your job performance was not on track. Solicit her advice on how you should have handled those scenarios.
Details
Probe your boss for details on skills and tools that could enhance your job performance. If he indicates that you struggle to meet deadlines, ask him to recommend specific steps toward improvements, such as delegating or pacing yourself during projects. Request some ideas on helpful tools like online calendars or time-management publications. Inquire about internal resources including mentor programs or training opportunities.
Goals
Understand your objectives, as well as the methods that your boss will use to measure your performance. If your goal is to increase your sales volume by 5 percent, ask how she will calculate your progress. Ask for the timetable that she will follow, such as monthly metrics versus a year-end assessment. Seek her input into develop behaviors that support your objectives, such as attending Toastmasters meetings if you need to develop public speaking skills or computer classes if you lack technical knowledge.
Big Picture
Among the questions to ask your boss regarding job performance is how you fit into the overall organizational goals. Many companies are tightening their financial belts, forcing employees to absorb increasing workloads. By asking where you can assist, you demonstrate that you want to bring value to your organization. In addition, you can take your performance objectives one step farther by asking your boss what you can do to help him. Workers often overlook the demands on their supervisor's shoulders, such as managing multi-million-dollar budgets, overseeing teams of employees and responding to senior management's demands.