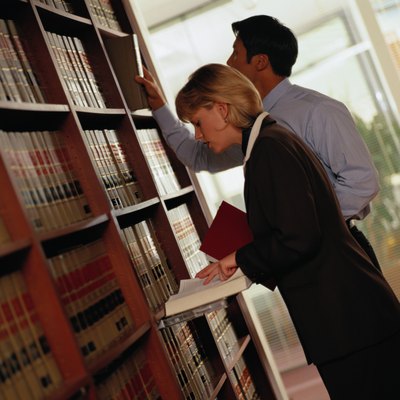 Paraprofessionals are key contributors in a number of professional environments. This is especially true in law, where paralegals do a lot of the leg work, such as case research and contract preparation, for much more highly paid lawyers. While most paralegals have an associate degree, paralegal certificate or bachelor's degree, you need several essential skills if you want to become a top performer.
Multitasking Abilities
Multitasking skills are the most critical for a top paralegal. Paralegals typically work in an office with several lawyers looking to dole out tasks throughout the day. You may get asked to research old case files by one lawyer and to prepare a business contract by another. Despite the demands, you can do it all in grand fashion with a detailed schedule, effective task prioritization and a strong client focus.
Communication Skills
Great paralegals need both strong oral and written communication skills. Letters, memos, trial summaries and contracts are among common documents paralegals prepare. To earn a reputation as a great professional, your writing must be clear, accurate and error-free. Computer skills are essential as well, since most documents are prepared and submitted using computers. Additionally, paralegals communicate with lawyers, court workers, clients and office personnel. Being an effective listener, concise note-taker and clear communicator will definitely add points to your reputation.
Research and Critical Thinking Abilities
One word that describes the essence of a paralegal's role is "research." A paralegal is a legal research professional much of the time. Lawyers rely on paralegals to do much of the pretrial case research. To become a top professional, you must also work under pressure to sift through files for helpful insights as cases play out. A June 2012 Briarcliffe College article noted that paralegals need strong Internet research abilities and competence with prominent legal databases such as WestLab and LexisNexis.
Organizational Skills
Given the amount of time they bounce around from one lawyer to the next and one client to the next, top paralegals have excellent organizational skills. Lawyers expect that you keep detailed and easy-to-use case files that allow them to quickly look through and use the information needed. As a great paralegal, you must also know where to find files when needed and avoid mixing up the research and paperwork that belongs with specific cases.
Photo Credits
Keith Brofsky/Photodisc/Getty Images