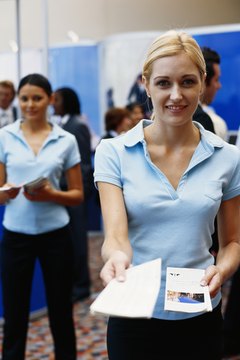 Without public relations departments, companies and government agencies would have no way of communicating their positive contributions -- such as cleaning the environment or participating in charitable events -- or counteracting negative publicity.. Public relations specialists and managers write news releases and speak at community events. If you have organizational and interpersonal skills, you already possess key attributes of a public relations professional. But you will need other qualifications as well.
Education
Most public relations specialists have bachelor's degrees in public relations or related fields such as business or journalism. For management positions, companies prefer hiring those with public relations, communication or journalism degrees. One-fourth of public relations managers had master's degrees in 2010, according to the U.S. Bureau of Labor Statistics. As a public relations specialist in an entry-level position, you work for public relations managers. While In college, you take courses in advertising, business administration, political science, public affairs and creative and technical writing.
Training and Certification
Most of your training in public relations is on the job and can last between one month and a year. Your work will be supervised by an experienced public relations specialist or manager. As a newcomer, you may acquire and maintain files about your company's business and social activities, and search for information that can be shared with reporters, consumers and stockholders. Eventually, you write your own news releases and speeches for the public. Certification through the Public Relations Society of America is optional but only available to public relations managers with experience.
Problem-Solving Skills
A pubic relations professional must have problem-solving skills. Information about your company is not always going to be positive. News reporters or activists may sensationalize environmental damage caused by a chemical leak at one of your plants, for example. To alleviate the negative publicity, you might need to contact an environmental expert, interview her and speak at a town meeting with the company president to allay public fear of water contamination. In this role, you must also ensure all company advertising is consistent with the image you're creating through public relations. Any discrepancies must be resolved by meeting with your company's advertising department.
Writing and Speaking Skills
Writing skills are essential for public relations specialists and managers. These professionals are constantly writing press releases or speeches for themselves or company executives. In public relations, you must also be able to speak with people of all educational and socioeconomic levels -- executives, coworkers, subordinates, reporters, factory workers and even the poor. Your job is to not only disseminate information to the public but obtain feedback as well.
Photo Credits
Stockbyte/Stockbyte/Getty Images