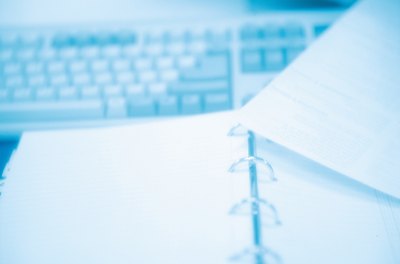 The interoffice memo may sound like a stuffy formality, but it can be your best bet to get the word out to office colleagues about an upcoming meeting or exciting new project. It's less formal than a business letter, blissfully short, and easy to write and send from your desktop. The standard format is clear and easy to follow: Start with routine headers and provide the substantive information in a few concise paragraphs. Save your longer documents, such as detailed reports ordered by your boss, to use as attachments.
Stick to tradition when it comes to the format. Open your memo with the usual header lines; keep them flush with the left margin and double-space them. On the "To" line, include the names of all the folks you're writing to, so everyone knows who else got it. If your memo recipients are a recognized group, just use the group name -- "Marketing Department Personnel," for example. Put your full name on the "From" line, then add the date you're writing the memo on the "Date" line.
Complete the header section of your memo with the "Subject" line. This is the topic or purpose of the memo, and it should be immediately clear to your audience. Use specific language in your subject line: "Third Quarter Sales Figures" is more informative to the memo recipients than "Sales Info."
Write the paragraphs of your memo in block style, flush with the left margin. Tell your readers right off the bat if the memo is in response to a supervisor's request for information or prompted by an event or new policy. Use a lead-in phrase such as, "Pursuant to the discussion at last week's staff meeting ..." or "This memo addresses management's request for details on Phase 3 of the Smith project." Use the first paragraph to introduce the topic, providing a brief background if necessary.
Write two or three concise, informative paragraphs with your main message. If graphics are included, mention them in the text so it is clear to your readers what the graphic represents. Finish the memo with any required followup actions or expectations, such as, "Be prepared to discuss the status of your team's efforts on the Smith project with the boss at a meeting on Monday in the conference room."
At the bottom of the memo, list any attachments you're including with the memo -- then don't forget to attach them.
Proofread your memo and make any corrections before you send it out for all to see. Don't forget to print a copy for your files. Before distributing any paper copies of the memo, write your initials after your typed name on the "From" line at the top.
Photo Credits
Photos.com/Photos.com/Getty Images