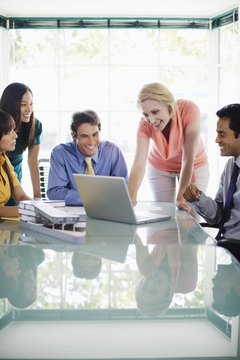 Every project manager has to start somewhere in the profession and it's usually in an assistant project manager role. An assistant would have full responsibility for smaller projects, but on larger projects she'll assist the principal project manager by taking on a lot of the administration work. But between small and large projects, she'll get full experience on all project management tasks from document management to forward planning.
Planning
When she's working on bigger projects she'll aid the principal in planning resources, schedules and budgets. This can include collecting, developing and analyzing data relevant to the plan, and helping the project managers to set objectives for the team. The assistant and principal managers will collaborate in balancing the time, money and scope of the project, which are parameters to discuss with the client. As an assistant, she'll learn that early planning will help prevent disruption and delays further down the line. The assistant works closely with the project team and has an important role in reporting back on obstacles she anticipates later in the project.
Communication
According to the UK Association for Project Management, communication is the most critical task in the profession. As a communicator, the assistant's role is important to the success of the project. The principal establishes project goals with the client or senior manager. They will then document these goals and communicate them to the project team via the assistant. If she reports back delays in the project to her principal, the documented goals will be updated by the project manager after consultation with the client. The assistant will also update schedules, budgets, records and project documents.
Team Management
When she's working on smaller projects, she'll be what the Bureau of Labor Statistics calls a "visible presence" to her team, and will be in close contact with them. Like any manager she has to motivate her team and ensure that the jobs are completed within schedule and budget. Also, unlike other managers her staff members will change with each new project. Her staff will have different skills, which could be marketing or IT or sales, and another task for the assistant will be to bring all this work together into a single successful project. Finally, she will have the role of deciding staff appointments on the team but on larger projects the final decision on staffing will be with the principal.
Quality Control
As the effective team supervisor, the assistant has to maintain the quality of her team's work. One of her tasks will be building quality reviews and control checks into the project schedule. As another quality control measure, she could design and manage a system of peer review, where team members check each other's work. Another best practice would be implementing and managing a continuous improvement program.
Photo Credits
Brand X Pictures/Brand X Pictures/Getty Images