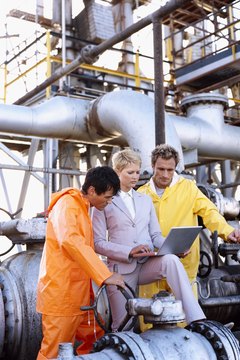 A professional engineer certification, or PE licensure, marks you as a talented engineer who's tops in her field. You can earn this highly valued credential regardless of your engineering discipline. Display your PE license right next to your civil, electrical, industrial, petroleum or nuclear engineering degree. Once you satisfy the demanding PE requirements, relish your well-earned career prestige and personal satisfaction.
Licensing Requirements
Begin your PE licensure path by completing a four-year engineering degree from an accredited program. If you've already jumped that hurdle, be prepared to document four years of increasingly challenging work experience with a professional engineer. You must also pass the Fundamentals of Engineering Exam and Principles and Practice of Engineering Exam. Finally, you must meet your state engineering board's licensing requirements, which may include an additional exam.
Multistate Licensing
If you plan to establish a multistate professional engineering practice, or perform PE work with a multistate company, you must obtain PE licensure in each state. Fortunately, the National Council of Examiners for Engineering and Surveying, or NCEES, has nicely streamlined this application process. Once you register your primary PE license with NCEES, this nonprofit organization electronically stores your engineering exam results, references and other relevant data. When you apply for an additional PE license, NCEES submits the required information to that state's engineering board on your behalf.
Professional Education
You might think earning a PE license marks the end of your engineering education. To the contrary, many state licensing boards require professional engineers to keep their skills sharp through continuing professional education. The National Society of Professional Engineers also recommends that members enhance their knowledge through web seminars, independent study projects and attendance at local or national engineering conferences
Licensing Benefits
You'll definitely get a good return on your PE licensure investment. First, you'll be a sought-after professional commodity, because only a licensed professional engineer can sign and seal all types of engineering drawings. Financially speaking, your PE licensure will likely lead to higher income opportunities. As a corporate employee, your PE license can open the door to higher-level engineering or management positions. Many government agencies also prefer to hire licensed professional engineers. If you strike out on your own, your PE license enables you to establish an engineering consulting firm or perform expert witness work.
Photo Credits
Stockbyte/Stockbyte/Getty Images