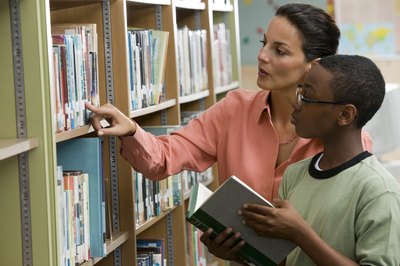 Librarians are more than just noise sheriffs who track down loud talkers and shush them into silence. Indeed, these talented professionals are true multitaskers, running a business while assisting customers and keeping track of large volumes of information. They are also not lacking in education, because librarians must earn a master's degree in library science before achieving the coveted title of librarian. Librarians work in schools, at hospitals and for government agencies. Librarians perform many tasks, but their most important function is customer service.
Reference Assistance
Before the days of Wikipedia, you went to the library to look up information for school reports, essays and reference materials. Librarians, who knew the ins and outs of cataloging and databases, helped patrons find the information they needed, and they perform these same tasks for patrons still. Their duties include developing and indexing library databases. They also organize materials so that they are easy for patrons to locate what they are looking for. Remember the Dewey Decimal System?
Program Development
Librarians are the entertainment planners for activities at local libraries. They work with community resources to offer classes, such as computer training, cooking and personal finance. Librarians also work to design programs that get kids interested in reading. These activities include reading hours, puppet shows and summer reading lists. Librarians work tirelessly to develop a social calendar that keeps people coming back to the library.
Administrative
Larger libraries may have a head librarian who supervises other librarians, while smaller branches may have just one librarian and a part-time staff. In either case, a librarian handles administrative tasks such as hiring staff and making work schedules. The librarian is also responsible for developing and maintain a budget, and working with vendors to secure equipment for library use, such as computers and audio visual hardware.
Specialized Duties
Some librarians specialize and work in field-specific libraries. For example, larger law practices and law schools employ librarians to assist with finding reference materials for lawyers and aspiring lawyers. Librarians in a medical library assist medical staff with research questions and reference requests. A librarian working in a local public school may also be a teacher. Some states require librarians working in public school libraries to have a teaching degree, as well as certification. Some states even requires librarians to have a license to work in the library.
2016 Salary Information for Librarians
Librarians earned a median annual salary of $57,680 in 2016, according to the U.S. Bureau of Labor Statistics. On the low end, librarians earned a 25th percentile salary of $45,060, meaning 75 percent earned more than this amount. The 75th percentile salary is $72,780, meaning 25 percent earn more. In 2016, 138,200 people were employed in the U.S. as librarians.
Photo Credits
Comstock Images/Comstock/Getty Images