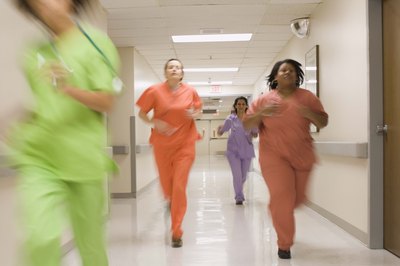 Health care is a field that has traditionally proven quite resilient during economic hard times. Even so, some places may be resistant to newly-registered nurses, in favor of those more seasoned; or may have an excess of applicants. Whether you want to have a better chance at employment, or want to earn more than you currently do, there are some places where nursing careers are steaming hot.
Industry Sector
Nursing careers vary by the sector. According to the U.S. Bureau of Labor Statistics, working in a general medical and surgical hospital brings nurses an annual mean wage of $69,810. The amount of jobs number about 1,556,930. Nurses in physician offices, however, earn $72,890 a year; with jobs numbering about 235,710. Working in home health-care services pays about $65,120 a year, with about 156,730 positions in place.
States
The geographic location also affects the employment and income of nurses, based on BLS data. The states with the highest employment numbers for nurses are California, with 250,230; Texas, with 184,890; New York, with 176,180; Florida, with 164,800; and Pennsylvania with 130,740 employed. When it comes to salary, certain states pay the most: California, at $90,860; Massachusetts at $86,810; Hawaii, at $83,950; Alaska at $82,080; and Nevada, at $72,840.
Metropolitan Areas
Metropolitan areas pay more than rural areas, and nurses can make quite a bit of money depending on which one they live in or close to. The top three metropolitan areas with the highest employment levels are New York-White Plains-Wayne, New York-New Jersey, with about 96,210 positions; Chicago-Joliet-Naperville, Illinois, with 77,530; and Los Angeles-Long Beach-Glendale, California, with 69,540. The top paying metropolitan areas are quite different, consisting of Vellejo-Fairfield, California, with average pay of $120,540; San Jose-Sunnyvale-Santa Clara, California at $117,590; and Oakland-Fremont-Hayward, California, seeing salaries of about $106,730.
Job Outlook
The BLS projects, through the rest of the decade, a 26 percent growth in employment for registered nurses -- which is faster than the average of all occupations. This growth is attributed to advancements in technology that allow a growing number of health issues to be treated, as well as more emphasis on preventive care. In addition, the baby boomer generation is expected to need more health-care services in response to longer and more active lives than earlier generations.
2016 Salary Information for Registered Nurses
Registered nurses earned a median annual salary of $68,450 in 2016, according to the U.S. Bureau of Labor Statistics. On the low end, registered nurses earned a 25th percentile salary of $56,190, meaning 75 percent earned more than this amount. The 75th percentile salary is $83,770, meaning 25 percent earn more. In 2016, 2,955,200 people were employed in the U.S. as registered nurses.
Photo Credits
Jupiterimages/Creatas/Getty Images