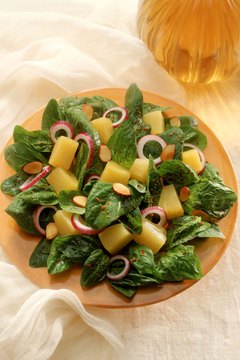 Pineapple chunks make a sweet addition to salads, deserts and smoothies. They also stand alone as a delicious side dish. Fresh, raw pineapple chunks deliver the most powerful health benefits, but canned chunks, packed in pineapple juice, may be substituted. Avoid pineapple chunks with added sugars for the greatest health benefits.
Vitamin C Content
The predominant nutrient in raw pineapple chunks is vitamin C. The USDA reports that a 1-cup serving containing 78.9 milligrams, or an astounding 131 percent of the recommended daily intake. Vitamin C is not stored in the body and must be replaced daily. It is necessary for healthy skin, membranes and immune system. The amount of vitamin C in canned pineapple chunks is considerably less, with a 1-cup serving of chunks delivering 23.7 milligrams, or 39 percent of the RDI.
Other Vitamins
Along with vitamin C, pineapple chunks deliver vitamin A and the B-vitamin family. Vitamin A plays an important role in eye health, as well as proper functioning of your body's cells and immune system. The amount of vitamin A in raw or canned chunks is roughly 95 international units, or 2 percent of the RDI. The content of the B-vitamin family remains the same with the exception of thiamine, or B-1, which is higher in canned pineapple chunks. A 1-cup serving of raw chunks contains 0.130 milligrams of B-1, or 9 percent of the RDI, while the same serving of canned chunks contains 0.237 milligrams, or 16 percent of the RDI. The B-vitamins, including thiamine, are needed for food metabolism and proper functioning of the muscular and nervous systems.
Mineral Content
Pineapple chunks contain several minerals, with canned chunks having a slightly higher mineral content. The most significant mineral in pineapple chunks is manganese, with a 1-cup serving of raw chunks delivering 1.5 milligrams, or 76 percent of the RDI, while the same serving of canned chunks contains 2.8 milligrams, or 140 percent of the RDI. Manganese plays a role in forming bones and tissues, blood clotting and proper brain function. The University of Maryland Medical Center reports that while it helps with brain function, too much manganese may lead to neurological issues such as Parkinson's disease or decreased learning ability in school children. Other minerals in pineapple chunks include copper, potassium, magnesium, iron, calcium, phosphorous, zinc and selenium.
Fiber Content
Dietary fiber lowers your risk of heart disease, obesity, stroke, diabetes, high blood pressure and high cholesterol, according to a report in the April 2009 issue of "Nutrition Reviews." Eating pineapple chunks contributes a substantial amount of fiber to your daily intake. A 1-cup serving of raw chunks contains 2.3 grams of fiber, or roughly 9 percent of the RDI, with slightly less in canned chunks.
Bromelain Content
Bromelain is a term given to a combination of enzymes found in pineapple. A review in the July 2011 issue of the "Journal of Chinese Integrative Medicine" states that bromelain has been found effective in the treatment of burns, skin wounds, inflammation, arthritis and the clotting of blood that can lead to heart attack and heart disease. The review also reports that bromelain helps prevent the growth of cancer cells.
Photo Credits
Jupiterimages/Comstock/Getty Images