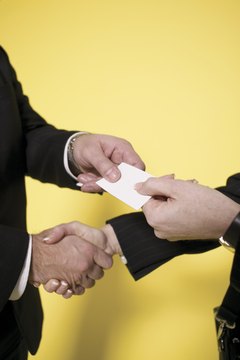 A business card is the perfect way to take the awkwardness out of promoting your skills and expertise. You might feel uncomfortable telling someone that you are the big cheese at your company, but a business card says it all. Business cards are a quick and easy way to give out your personal information to clients, business associates and friends, without appearing cocky or overly aggressive. A business card might be the only remaining evidence that a conversation or interaction occurred, so you want to choose wording that appeals to your clientele.
Contact Information
Business cards should be simple and direct, so customers don't have to hunt for relevant information. Include the company name, physical address and website address near the top of the card. Your name, title, direct telephone number and email address should be centered, or left-justified so it stands out as the primary information. You can right-justify your information if you prefer a less traditional design or want to showcase your creativity. There's no need to explain your information using labels, such as "telephone number" or "email address" because contact information is straightforward. The only exception is if you want both your telephone number and fax number on the card, then you must label each so customers don't get confused.
Mission or Tag Line
Most business cards have a blank backside, but you can print your company's mission or tag line on the back, according to "Entrepreneur." Don't clutter the back with too many words or images and limit the content to one phrase or tag line. Even though you want customers to associate your business card with the products or services your offer, you don't want your card to look like an advertisement. When in doubt, opt for simplicity and avoid phrases that are overly dramatic.
Areas of Expertise
Include a phrase that covers your areas of expertise if your title doesn't sufficiently define what you do. Roy Cohen, career counselor, executive coach and author, suggests including a phrase, such as " Career Management, Executive Coaching, Leadership Development," on your business card if your skills are specialized, according to "Forbes." Clients need to feel confident about your role within the company. If you are a jack of all trades, limit your areas of expertise to three or four brief descriptions. You don't want your business card to look like a page out of a Dr. Seuss book.
Considerations
There is much debate over whether a business card should include a professional photo, but online marketing consultant Don Crowther says a photo will help your card stand out in the crowd, as reported at "Forbes." People like to associate a name with a face, so a photo will likely increase your connection with the client. Avoid goofy poses, silly expressions and outlandish outfits, and opt for simplicity and professionalism. You want the client to recognize you immediately if you meet again in the future.
Photo Credits
Jupiterimages/liquidlibrary/Getty Images