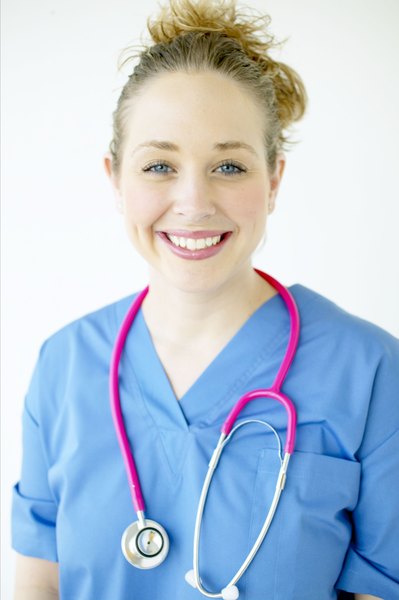 When you have blood drawn at the hospital or doctor's office, you're probably meeting with a phlebotomist. A phlebotomist's primary job is taking blood, though she also evaluates a patient's veins for transfusions, prepares laboratory specimens for examination and explains blood drawing procedures to patients to put them at ease. Because phlebotomists don't need a great deal of education, they are among the lowest-paid members of the health-care industry, reports the Bureau of Labor Statistics, BLS. Exactly how much you can make depends on the health-care setting you work in, the city you live in and how much experience you have.
Differences by Location
The BLS does not break out salary information specifically for phlebotomists, but a quick glance at phlebotomy job information on reputable online sites gives you an idea of how pay differs by location. CareerBuilder reveals a payscale range between $9 and $14 an hour as of 2013. Pay differs from state to state and from town to town. For instance, a job posting in Orlando, Florida, offers between $9 and $11 an hour while a posting in Demorest, Georgia, offers between $12 and $14 an hour. Frederick Community College in Maryland tells its students phlebtomists in that area earn an average of $12 to $15 an hour.
Hospitals vs. Offices
Salaries also fluctuate depending on your work setting. According to the Bureau of Labor Statistics, the hourly pay for a phlebotomist is lowest in a physician's office, where the average was about $13 an hour as of 2010. In hospitals, the average pay was $13.50. The highest average pay is in a reference lab, where the hourly rate was $20.16.
Educational Requirements
Courses in phlebotomy are available in technical and trade schools and in some colleges, according to the Education Portal. American Medical Technologists, or AMT, an accrediting agency for allied health professionals, notes that program lengths vary depending on the school, and usually culminate in a certificate of completion or a diploma.
Certification and Licensing
Each state has its own requirements when it comes to licensing phlebotomists, says the AMT. Professional certifications, which add another layer of credentials to a phlebotomist's education, aren't always required, but they can aid your hireability. Some states, such as California, require phlebotomists to be both certified and licensed in order to work.
2016 Salary Information for Medical and Clinical Laboratory Technologists and Technicians
Medical and clinical laboratory technologists and technicians earned a median annual salary of $50,240 in 2016, according to the U.S. Bureau of Labor Statistics. On the low end, medical and clinical laboratory technologists and technicians earned a 25th percentile salary of $41,520, meaning 75 percent earned more than this amount. The 75th percentile salary is $62,090, meaning 25 percent earn more. In 2016, 335,600 people were employed in the U.S. as medical and clinical laboratory technologists and technicians.
References
Writer Bio
Brooke Julia has been a writer since 2009. Her work has been featured in regional magazines, including "She" and "Hagerstown Magazine," as well as national magazines, including "Pregnancy & Newborn" and "Fit Pregnancy."