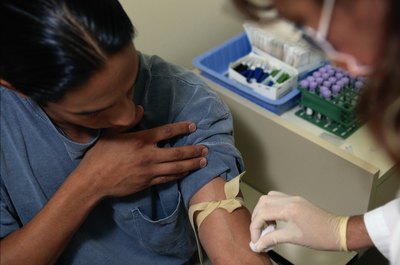 Phlebotomists draw blood to help doctors find and treat diseases. Cumberland County College in Vineland, NJ, offers a four-month training program that had just 10 openings a semester as of 2013. Once you graduate you need to pass certification tests to land a job.
Background Requirements
The first thing you need is a high school diploma or GED. Ask your school's registrar to forward an official copy of your transcript – not your diploma – to Cumberland's Professional & Community Education Department. And because you'll soon be working around a lot of people, Cumberland wants proof that you're vaccinated against contagious diseases such as hepatitis B. You'll also have to undergo a $25 criminal check at mybackgroundcheck.com.
Letters and Essays
Cumberland doesn't just look at your grades, health status and criminal record. The college also wants to know that you can handle phlebotomy. Ask two employers or teachers to write letters of recommendation. It's even better if they work in health- or medicine-related areas. Make sure each letter explains your good character, communication skills, dependability, maturity and even your personal hygiene. Forget about asking mom: letters can't be from family. Cumberland also requires you to write an essay explaining why you're interested in phlebotomy. Did watching a sibling with chronic disease make you want to help uncover illnesses and save lives? Did you ace biology and realize you'll be happy only with a career in health care? Get creative, and be specific about why you're interested in the program. Finally, complete Cumberland's application. Don't leave anything blank if you want to snag one of those prized spots in the next class.
Costs
College isn't free, and Cumberland is no exception. Once you're accepted, you have to send a check or money order to cover tuition, or submit proof of an approved student loan. As of 2012, Cumberland's phlebotomy program cost $3,249, plus a nonrefundable application fee of $75. You also have to purchase the program's textbook, "Phlebotomy Essentials, Fourth Edition: Textbook and Workbook Package," by Ruth E. McCall and Cathee M. Tankersley. You can borrow or buy the book new or used for about $25 to $105 from a book-sales website.
Coursework
Cumberland's program includes 48 hours of classroom studies on the circulatory system and blood components. You'll also learn about health care ethics, legal issues, customer service, safe practices and how to talk with patients. You'll also have 100 hours of hands-on practice in a lab, where you'll complete 100 successful venipunctures and skin punctures. If you need to go to night school to fit courses around a job, you're in luck: Cumberland offers evening classes during the week.
Exam
Once you finish classes and training, take the American Society of Clinical Pathologists' Certified Phlebotomy Technician test. The exam, which had a $135 application fee as of 2013, quizzes you on everything you learned, including lab operations and specimen collection, processing and handling. You also have to answer questions about the structure and function of the circulatory system, the composition of blood, hygiene, patient privacy laws and how to collect and process non-blood samples, such as urine.
Outlook
With a Cumberland diploma and certification in hand, your job prospects are good. The number of jobs for medical laboratory technicians such as phlebotomists will grow 15 percent through 2020, according to estimates from the federal government. As people get older and live longer, they'll need phlebotomists to draw blood to detect diabetes, cancer and other diseases. If you are trained in other health skills, including reading blood pressure or performing heart-function tests, you'll be even more employable. It's also beneficial to be able to write well and to have thinking skills to analyze lab data and learn new procedures.
Photo Credits
Keith Brofsky/Photodisc/Getty Images