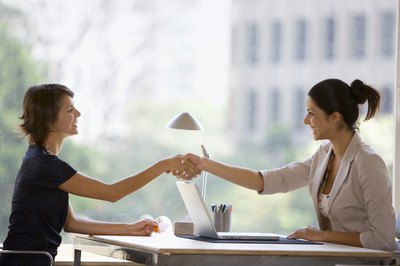 Finding the right peg to fit in a square hole isn't always easy when it comes to finding workers for open positions. Job recruiters, headhunters and human resources employees must face a steep learning curve when they're new to the field. Young college graduates and novice recruiters often struggle to fill job placement needs until they learn how the system works. Recruiters might start with moderate expectations, rather than shooting for the moon, until they understand the ropes and get a few success stories under their belt.
Don't Knock It 'Til You Try It
One of the main personal goals for new job recruiters is to get out there and see the available workforce and current job marketplace firsthand. Without an understanding of market trends and employment needs, new recruiters have to thumb through employment records that might not be relevant to current needs. Recruiters might set goals to visit three job fairs per month, visit one new college job-board website per day or look through new postings on well-known job websites, such as Monster, CareerBuilder, Indeed or SimplyHired every week.
Connect with Workers
New job recruiters must build relationships with employers, job applicants, workers and industry leaders so they can better understand and interpret the marketplace. Some job candidates look wonderful on paper but have personalities and interpersonal skills that don't fit job requirements. Others have good people skills but lack the technical expertise to fulfill all job demands. Headhunters need to meet with employers and potential candidates face-to-face when possible to discuss current job openings and the types of candidates that best meet their job description goals. They might set personal goals to meet with two reputable employers in the community per week or interview two new hires to see what they liked or didn't like about their hiring experiences.
HR Could Be Your Best Friend
Job recruiters can hone their skills by researching ways to write effective job descriptions and advertise those same jobs. They might set personal goals to meet with a human resource director at a university or a business once a week to discuss current hiring trends. Or they might try to draft three job descriptions every day so they learn to write concise, appealing ads. They might also schedule a meeting with a government-supported unemployment agency to better understand what types of employees are currently looking for work and what industries are hiring.
Theory in Practice
Some recruiters might have previous work experiences that allow them to see strengths and weaknesses in hiring managers' strategies. As a result, they might have personal goals to make their hiring practices more efficient and productive for workers as well as employers. New job recruiters could make a running list of positive strategies and pitfalls they've witnessed and add to the list on a daily or weekly basis. As recruiters gain more experience, the list will likely get longer and more detailed, providing a reference guide for future job placements.
Photo Credits
Creatas Images/Creatas/Getty Images