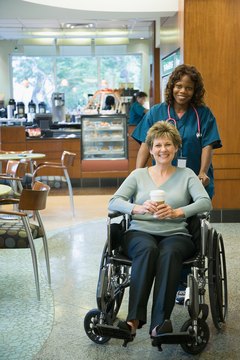 Nurses looking to supplement income or maybe pick up some pocket change after retirement are in luck when it comes to finding jobs. Whatever a nurse's reasons for pursuing a part-time career, many opportunities in nursing await. The aging of the baby boom generation translates to more people leaving the workforce and more people needing care. This means that the demand for nursing will continue to grow. As a matter of fact, the Bureau of Labor Statistics estimates a growth potential of 26 percent through 2020.
Schools and Jails
It's easy to forget that schools and jails employ nurses, but they do. The two institutions really differ little, except that in schools the inmates go home at the end of the day. In some settings, a head nurse takes care of the paperwork, schedules and treatment plans, while a part-time nurse assists during busy times. Although being trapped with hardened criminals or undisciplined children all day may not sound appealing, these types of careers may not carry the same stress load as other nursing placements. The hours are fairly normal, you probably won't have to assist with any surgeries and emergencies probably won't occur on the same scale or frequency as at a hospital ER.
Teaching Opportunities
Colleges, especially community colleges, rely on their adjunct instructors to fill valuable teaching roles. Adjunct or part-time teachers typically carry a workload of one to three classes a semester. Since nursing is a growing career, colleges will need instructors to help educate future medical staff. If you're a nurse with a master's degree, you can teach at the college level. Even nurses with only a bachelor's degree may be able to teach courses geared toward students pursuing an associate degree in nursing or help train certified nursing assistants.
Home Health
Home health care is another growth field that welcomes part-time nurses. Nurses in this field include CNAs, licensed practical nurses and registered nurses. The level of nursing depends on the patient's need. Some individuals simply require ambulatory assistance with oversight of their prescriptions, while others need more substantial care. Hospice care nurses can also pull part-time shifts. This type of care can take place in either the patient's home or in a specialized facility.
Clinics and Other Facilities
Walk-in clinics, women's health centers and even some medical weight loss centers employ nurses on a part-time basis. Other opportunities exist at LASIK centers, plastic surgery offices and veterinary clinics. These types of facilities offer flexible hours that may not always be available in a hospital setting. They're also a little less stressful for the nurse who just wants a drama-free side job. Insurance companies often hire registered nurses as case managers, allowing them to work from home or maintain flexible hours. While not quite falling into the part-time job category, travel nursing is another area that offers opportunity. In travel nursing, nurses accept assignments around the country for temporary work before moving on to the next assignment. Nurses have the option of taking a break between assignments, allowing them flexibility seldom found in full-time nursing positions.
Photo Credits
Jupiterimages/Photos.com/Getty Images