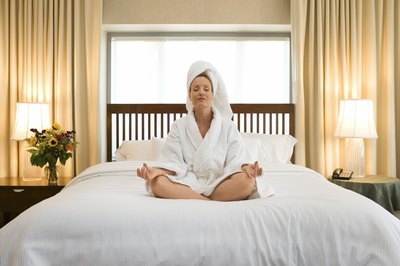 Life gets busy, and it takes you places you might not expect. Staying on track with your fitness routine can be a challenge, especially if you're practicing something with a pretty strict regimen like P90X. Your quest for a tight and toned body keeps you coming back for more, and you're probably not real keen on losing progress due to scheduling woes. By keeping a few short workouts that require minimum space to perform, you can continue on your quest undaunted while you travel.
The Sequence
Traveling can be exhausting, and may leave very little time in your schedule for a workout. Travel workouts can be shortened to about 30 minutes, and your "tip of the day" is to remember to include cardio, core work, lower body and upper body work in each one. The creator of P90X recommends specific exercises for a specific number of reps, but it boils down approximately one minute of cardio, 30 reps of a core move, 30 reps of a lower body move, and then an upper body move for as many reps as you can maintain good form (see References 1).
Time Frame
It will be easier to continue your normal routine when you get home if you maintain some semblance of the same schedule while you travel. If you always pop in a P90X DVD after you get home from work but before you eat dinner, then it might be best to fit your entire workout in when you get back to your hotel room but before you head out in search of the local culinary delights. However, travel has a way of throwing your "normal" schedule completely off-kilter, so just fit in whatever moves you can, whenever you can. (See References 2)
Equipment
Don't let a lack of equipment be your excuse for not working out on the road. You might find room to pack a P90X DVD and some resistance bands in your luggage, but you can get a full body workout in just by using your body weight as your resistance (See References 3). Many hotels now days have fitness centers with a weight machine and treadmill or two, you might even find it invigorating to break up your P90X routine with something new, as long as you do something. Squeezing in ten or fifteen minutes twice a day will help keep you motivated and on track.
Setting
Working out in a cramped hotel room might seem like slightly less fun than a barrel of monkeys, but it can be done. A bed or chair can serve as a platform for incline push ups, single leg squats, lunges or dips, and the little bitty bathroom counter top is perfect for getting a nice deep hamstring stretch. If you're lucky enough to have a room with a large window overlooking halfway decent scenery, use it as a mental escape while you perform your moves.
Photo Credits
Jupiterimages/Comstock/Getty Images