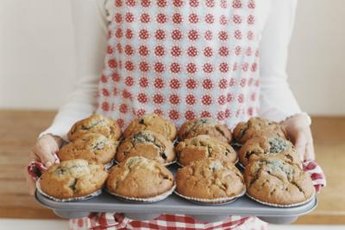 i
Digital Vision./Digital Vision/Getty Images
Sneaking more protein into your day is a great way to gear up your weight-loss efforts. Nutritional consultant Mike Roussell, Ph.D., says that eating more protein helps women whittle away body fat. Rather than munching on meats and eggs all day, use protein powder as an easy way to increase your intake. And don't fret if you can't tolerate the taste of your hubby's protein drink -- plenty of creative and tasty ways exist to use protein powder.
Smoothies
Skip the typical glass of milk or water as the base for your protein powder. Instead, mix it into a fresh fruit smoothie for a punch of nutrients. The ingredients you use impact the nutritional benefits. Along with your protein, pack your smoothie with vitamins, minerals and calcium. Add one or two scoops of protein powder to 1/2 cup of yogurt, 1 cup of milk or fruit juice and fresh fruit. Try mango and pineapple for a tropical flavor, strawberries and blueberries for a traditional taste or bananas and peanut butter for a dessert-like drink.
Sneak It Into Breakfast
Rather than guzzling down a protein drink after your morning workout, try sneaking the powder into your morning meal. Use it to add a boost of flavor to a bowl of oatmeal or cup of yogurt. Use plain oatmeal to avoid an unappetizing flavor competition. For yogurt, use protein powder to enhance your favorite parfait. Mix vanilla- or berry-flavored protein powder into plain or vanilla yogurt, then top it with a handful of fresh berries and whole-grain cereal for a quick protein-packed meal.
Baked Goods
Baked goods can also be used as the foundation for protein powder -- which will certainly make your gym-junkie hubby impressed by your domesticated diva skills. Bake the powder into pancakes, muffins, cakes and cookies. If you add 1/2 cup of protein powder to the recipe, subtract 1/2 cup of flour. You might also need to add a bit more liquid, as protein powder tends to be quite absorbent.
Protein Dessert Dip
Whether you're hosting a party or serving an after-dinner dessert, use the powder to make a sweet protein-packed dip. Mix a scoop of protein powder into 1 cup of slightly frozen whipped cream. Add additional ingredients to suit your favorite flavor preferences. For an afternoon snack, try peanut butter and graham cracker crumbs. For an after-dinner treat, try cocoa powder and dark chocolate chips. Use strawberries, apple slices, pineapple chunks and graham crackers to dip into your protein dessert.
References
Writer Bio
Krista Sheehan is a registered nurse and professional writer. She works in a neonatal intensive care unit (NICU) and her previous nursing experience includes geriatrics, pulmonary disorders and home health care. Her professional writing works focus mainly on the subjects of physical health, fitness, nutrition and positive lifestyle changes.