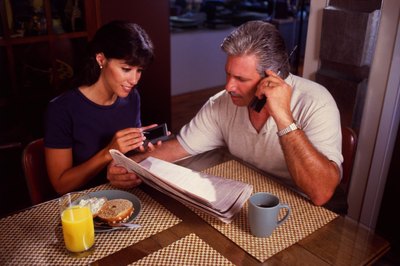 Finding a job after being laid off is a scary process. Job seekers feel attached to a stopwatch, lost inside the time crunch of finding employment before their unemployment compensation dries up. Many if not most job seekers who find themselves without work in excess of a year will surpass the cut-off to receive regular and extended unemployment benefits. The outlook for these job seekers seems grim, but there are options for survival in the wake of exhausted unemployment benefits.
Public Aid
The jobless can find assistance through public aid programs funded by all levels of government. Benefits include housing programs, Temporary Assistance to Needy Families (TANF), Medicaid, utility assistance and food stamps. Each source has its own application process and guidelines to qualify. Call 2-1-1. This is the standard phone number in all states to find out what resources are available in your state. In some cases, unemployed workers can get approved for expedited benefits and receive food stamp relief within 24 hours.
Extra Cash
For those who run out of unemployment benefits, now is a good time to sell unneeded possessions. A yard sale can net enough cash to pay basic necessities for a month or two. Have your yard sale on the 1st or the 15th of the month; these are popular pay dates for workers. Also, reach out to local churches. Some congregations will go as far as setting up a fundraiser focused on helping you.
Consider pawning items. Some pawn shops will pay at least half of what an item is worth. Online pawn shops usually pay more than that. Pawning items can be a humbling experience, but you might walk away with enough cash to pay an electricity bill or buy groceries.
Education
Consider going back to school. Federal loans can provide funding for the cost of attendance and even living expenses. These funds will help you survive as you learn to make yourself a more valuable member of the workforce. You can defer repayment until six months after you graduate. If taking out loans is too scary an option, consider grants and scholarships; many are available regardless of your age or current educational levels. Some are based on merit and others are based on financial need.
Creditors and Other Expenses
Many car loan companies have programs that offer a reprieve on car loans. If approved, your car loan company will remove a certain number of your monthly payments from their upcoming due dates and tack them onto the end of the loan. This will make your loan longer, but it will give you that number of months to come up with a plan before they hit you with repossession.
Utility companies offer emergency assistance as well. Many of these companies carry a pool of funds that financially-stable customers may donate to so that cash-strapped customers can pay their utilities. Check with your utility providers for details. At the very least, you should be able to get a payment plan from each utility to avoid disconnection.
Cell phone providers may give breaks to their customers if they've shown good faith in the past. Tell your provider of your situation and ask for a credit on your cell phone bill. At the very least, they should be willing to set up a reasonable payment plan.
Perseverance
Unemployment benefits will end whether you give up or keep fighting. Remember that you qualified for these benefits because you had a stable work history and qualifying income. If you had a stable career once, believe that you will have another one. Consider this a minor setback and keep applying for jobs.
Photo Credits
Thinkstock Images/Comstock/Getty Images