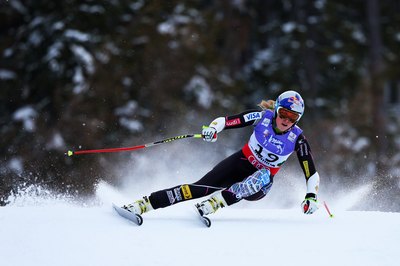 Lindsey Vonn and the other members of the U.S. ski team shook up the world at the 2010 Olympic Games in Vancouver. A great diet helped. In the early years of the 21st century, the U.S. ski and snowboard team hired a full-time chef and dietitian to work with athletes training for the Winter Olympics and other major events. At times, dietitian and chef Adam Korzun prepared every meal for America's elite wintertime jocks, occasionally serving up dinners of pancakes, bacon and eggs. At the 2010 Winter Olympics, Team USA won 37 medals, the largest haul by a single nation in Winter Olympics history. As Korzun stated in "BU Today," a Boston University publication, "Nutrition is not going to win you a gold medal, but it can definitely keep you from getting one."
Scientific Approach
Working with the men's alpine ski team before the 2010 Winter Olympics in Vancouver, Korzun and team trainers spent one year monitoring hydration and blood levels for athletes, both when they cooked on their own and when meals were planned and prepared for them. Toward the end of the experiment, Korzun cooked all of the meals himself, individualizing them to fit the needs of each athlete to produce optimal nutrition levels. In Vancouver, U.S. skiers and snowboarders stayed in condos instead of the Olympic Village and ate meals prepared by private chefs to Korzun's precise directions.
The Basics
As "U.S. News and World Report" explains, athletes who compete in the Winter Olympics generally eat the type of diet that is recommended for everyone else. They consume plenty of fresh fruits and vegetables, whole grains, lean proteins such as chicken and turkey, low-fat dairy, and good fats, such as olive oil and avocados. Korzun favors real food over supplements or protein bars. "Food is just so much more delicious, and it can provide valuable mood boosts." Although his charges chow down on highly nutritious meals, the occasional treat is important. Take the pancake dinner, a yummy meal for skiers and snowboarders who might train at 6 a.m. every morning and never get to eat such a "decadent" breakfast. But after days of heavy training, a pancake dinner not only is a treat, it serves to replenish carbs and add sodium to the diet from the bacon.
Specializing by Sport
Ski events at the Olympics range from the giant slalom to cross-country races to the ski jump, and the nutritional demands for athletes in such different sports varies considerably. Korzun says cross-country skiers generally fuel themselves like endurance runners -- plenty of carbs and lean proteins -- but also need to take into account cold weather in establishing the correct intake of electrolytes during a race. But in the Nordic combined event, a combination of cross-country skiing and ski jumping, athletes often need to shed weight to jump higher while maintaining strength for the skiing portion of the event. Nutritionist Nancy Meyer, who works with Olympic speed skaters, tells "U.S. News and World Report" that adding protein, reducing fat and keeping carbs at the same level is the best solution.
Individualized Meals
In addition to tailoring meal plans for specific sports, Kurzun pinpoints the nutritional needs of each individual, saying "One nutrient added at a certain time before a certain race can make a world of difference." Meal plans are put together for each athlete in the summer and spring based on physiological testing. Trainers use the results to develop conditioning programs and Korzun uses the results to fine-tune diets. For example, a lactate acid threshold test, which measures endurance, might indicate a skier needs more carbs after exercise to enhance recovery.
Value
A 2012 study published in the "Asian Journal of Sports Medicine," tends to confirm the wisdom of the American approach to the nutrition of its Olympic skiers. The study evaluated the diets of cross-country skiers on the Greek national team. It discovered that both male and female athletes consumed too much fat and too few carbs. In addition, many Greek skiers were deficient in certain essential vitamins and minerals.
Photo Credits
Alexander Hassenstein/Getty Images Sport/Getty Images