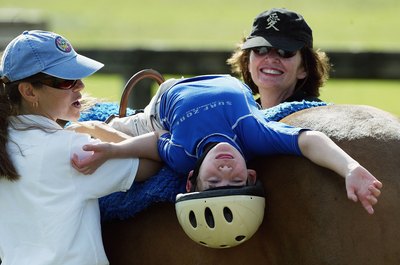 Your singular goal as an occupational therapy professional, regardless of the population you serve, will be unwavering: help patients navigate and overcome challenges in their daily lives so they can thrive. Focusing narrowly on patients with autism spectrum disorders is no exception. Your work will be informed by each patient's particular strengths, struggles, needs and goals.
Benefits of Occupational Therapy in Treating Autism
The world can be an overwhelming and incomprehensible place for children with autism. The neurobiological disorder often affects social skills, making typical interaction a challenge. It can also affect sensory perception and motor skills. Sounds at normal volume may feel painfully loud. Some kids with autism can't talk, tie their shoes or go to the bathroom without assistance. Occupational therapists and occupational therapy assistants team with parents and other therapists to define and work toward specific goals, building skills to help people with autism live more independently.
Duties
You could work with autistic children as either an occupational therapist or an occupational therapy assistant. Both are licensed to administer therapy, though only the former can evaluate, diagnose or prescribe treatment plans. Therapists assess new patients using a combination of diagnostic tests, observation and interviews. They use the information and insights garnered to develop a therapy plan defined by specific goals. In addition to working with patients, you will keep detailed records to chart progress and make revisions to therapy as needed. You'll need strong communication skills to coordinate with parents, teachers and other medical professionals involved in the child's care.
Challenges
Bring your whole heart and loads of patience to your practice every day. This work is slow going. Progress often comes in baby steps. Be prepared to meet patients where they are, work with what they can tolerate and celebrate small victories. Patients may frustrate easily when their comfort boundaries are pushed. Skills are built on repetition, practicing the same activities over and over, and unlike some occupational therapy clients, children with autism may not be willing participants motivated to make a change. This job is a true labor of love.
Job Settings
You may work in clinics with other practitioners but are equally likely to work on site in the places your patients spend most of their days. Think schools, child care centers and homes. Occupational therapy professionals work closely with other therapists, doctors and parents for the most successful results. Serving patients with autism is a small specialty in a large field. A third type of occupational therapy professional, occupational therapy aides, do not work directly with patients but may provide administrative support and help to prepare and maintain therapy materials. As an aide you are most likely to work in a clinical setting.
Photo Credits
Tom Ervin/Getty Images News/Getty Images