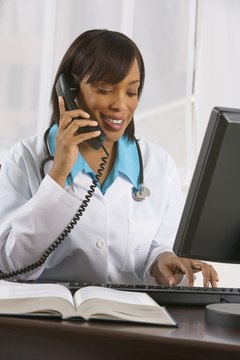 A nurse practitioner is a registered nurse with a plus -- extra education, a different type of license and a broader scope of practice. NPs perform physician tasks such as ordering lab tests and prescribing medications. In some circumstances, a nurse practitioner can act as a professional or expert witness.
Keep It Legal
An expert witness, according to a December 2012 article on the SEAK website, which provides expert witness training and continuing education, must meet both legal and practical requirements. SEAK notes that the Federal Rule of Evidence 702 requires expert witnesses to help people understand the evidence or determine facts in cases. Some states also require expert witnesses to be licensed in the states in which they testify. Since each state regulates the practice of nursing, and nurse practice acts can differ from one state to another, this requirement ensures that the NP is knowledgeable about the applicable nurse practice act.
Seasoning and Specialty
An expert witness must have the necessary knowledge, skill, experience, training or education to qualify as an expert. A brand new NP, for example, probably wouldn't meet the requirement. In addition, some states require an expert medical witness, such as an NP, to practice the same specialty as the person being tried in a malpractice case. An NP whose practice was in pediatrics, for example, would not be qualified to provide testimony in a malpractice case involving gynecological care. The Legal Information Institute at Cornell University Law School notes that an expert witness must also provide testimony based on sufficient facts or data, using reliable principles and methods that have been correctly applied to the facts in the case.
Some Basic Practicalities
Although the practical requirements to serve as an expert witness are more extensive, they are just that -- practical, rather than legal, requirements. Some are obvious, such as having a squeaky clean record yourself -- it's too easy for an attorney to attack your credibility if you've got skeletons in your own closet. Lawyers are always working to deadlines, so your ability to meet or beat those deadlines will make you a sought-after witness. Unless you work full time providing expert witness services, you either need flexibility at work or to be self-employed to appear for depositions and court appearances.
Stick to Your Knitting
Nurse practitioners would typically provide expert witness testimony on nursing issues, which could include such issues as patient abandonment or nursing malpractice. Most states, according to the Federation of State Medical Boards, would not allow a nurse practitioner to testify in a case of medical malpractice against a physician because, even though they provide similar services, they are considered different medical professionals. NPs who perform expert witness services should have a curriculum vitae or resume that sets forth their qualifications, a fee schedule and a contract for prospective employers.
Photo Credits
Jupiterimages, Creatas Images/Creatas/Getty Images