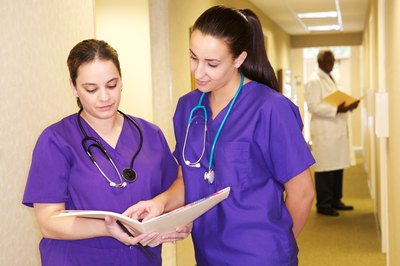 Nursing assistants -- also known as Certified Nursing Assistants or CNAs -- help take care of the sick, injured and elderly. Because this job requires compassion and helping others, it's an ideal profession if you desire to make an impact in your community. If you're interested in becoming a nursing assistant, qualifications will depend on where you live. Every state sets its own standards, but most have similar qualifications in place.
Education and Training
If you're anxious to get started in your career, you'll be happy to learn that nurse assistants require very little education and training in comparison to other medical professionals. In fact, you could complete your training and start working in the field in as little as five weeks, though some programs take a semester to complete. CNA programs result in a certificate rather than a degree. During the program, you can expect to take laboratory classes covering topics related to nurse assisting as well as participate in clinical courses. Clinical courses put you directly in a health-care facility to learn from professionals about patient care and protocol. This prepares you to take the required certification exam in your state.
Health and Personal Requirements
Most states require CNAs to be at least 16 and in good health. Since you'll primarily work with the sick, elderly and other patients with compromised immune systems, you need to be completely up-to-date on your vaccinations. Required vaccines include measles, mumps, rubella, hepatitis B and chicken pox. You must annually get a flu vaccine and test negative for tuberculosis as well. Additionally, you must be able to pass a criminal background check and drug screening.
Certification
Certification is issued by the state in which you plan, and typically requires completion of an approved CNA training program, passing an exam and meeting all of the personal and health requirements. Additionally, most states require CNAs to be certified in CPR and first aid, as well as basic life support. Some states require CNAs to renew their certification periodically and undergo continuing education for renewal.
Skills and Traits
Once you have your certification and you've found a job, your knowledge will only get you so far in the field. To truly succeed and stand out as a nurse assistant, you need a specific set of skills and personal traits. Compassion is by far one of the most important qualities a CNA needs, as she spends time working with sick and injured people on a daily basis. From bathing and feeding patients to helping them get dressed, you'll spend a lot of time helping people perform routine tasks that could easily wear on you and stress you out, so you need to possess a lot of patience. Communication skills are essential, as you need to not only be able to effectively speak with your patients, but you also need to be able to take orders from nurses and report back on patient behaviors and conditions.
Photo Credits
Thinkstock Images/Comstock/Getty Images