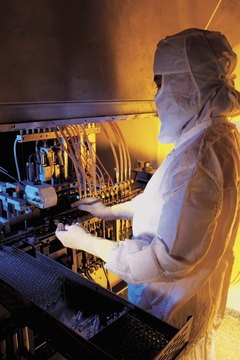 Looking for an exciting, impressive and well-paying job? You could do a lot worse than working in a nuclear power plant. For one thing, jobs in this field generally pay an average of 36 percent more than others in a community/ Also, you can choose from a variety of jobs. You need only search online job boards with the phrase "nuclear energy" to be rewarded with a pool of related jobs into which you can jump. If you're worried about winding up glowing in the dark, know that the U.S. government agencies charged with regulating nuclear plants take their jobs extremely seriously, keeping hazards to a minimum.
The Jobs
So what kind of jobs can you expect to find in a nuclear facility? You could be a power plant operator, distributor or dispatcher. These employees control the systems in place that generate and distribute electric power. You might see yourself as a nuclear technician, assisting physicists, engineers and others in research and production. Or how does the title "Nuclear Engineer" grab you? You'll be researching and developing processes, instruments and systems to find the best ways to extract the benefits from nuclear energy. Keep in mind, though, that only about 5 percent to 10 percent of employees at a facility hold a nuclear engineering degree. There are many other intriguing positions you might like, such as working as a civil, mechanical or electrical engineer. You might even enjoy something more "constructive," like being a welder, pipe fitter or carpenter.
Work Environment
Your job at a nuclear power plant will most likely be full-time, and you might be required to work rotating shifts. Depending on your job, you could work anywhere from inside a quiet office to a noisier power-generating area. Some of your work could take you outside if you're in construction. You might wear casual clothing to work, or you might find yourself decked out in a protective suit. Nuclear technicians and others must take regular safety precautions, one of which is wearing protective gear to avoid exposure to radiation.
Are You Safe?
No one likes the thought of being exposed to radiation, at least at no greater levels than what is already in our environment. On a daily basis, you'll absorb some radiation from the sun, the air, the ground, building materials and plants. While at work, know that a huge amount of care is taken to reduce or eliminate any radioactive hazards. The U.S. Nuclear Regulatory Commission licenses and monitors nuclear facilities and materials, regularly inspects them and enforces compliance with strict oversight. Consequently, nuclear energy has been considered safe for generating power for use in many places you've no doubt visited, such as universities, hospitals and many other public institutions. It follows that your work environment, being on the front line of production, would boast the highest industry safety standards.
What You Need
The level of your education will get you specific jobs in a nuclear power plant. For instance, if your goal is to become a facility operator, dispatcher or distributor, you'll need a combination of relevant schooling, experience and long-term on-the-job training. Nuclear technicians need an associate degree in nuclear science or a nuclear-related field, along with extensive training. If you've got your heart set on becoming a nuclear engineer, work toward a bachelor's degree in nuclear engineering and get some experience through cooperative-education programs available at some universities. Be sure you have a clean background; many employers will have you submit to a background check, in addition to drug and alcohol screenings. Nuclear power plants also provide on-site training programs for newly hired employees.
Salary and Outlook
Happily, you'll be compensated nicely for your work at a nuclear power plant. You may or may not be part of a union, depending upon your job, so your benefits may vary, but you can expect a comfortable wage. The U.S Bureau of Labor Statistics reported an average 2010 salary of $68,090 for nuclear technicians, and $99,920 for nuclear engineers. Employment of nuclear engineers is expected to grow 10 percent between 2010 and 2020. You should have no trouble finding a good job, because the current workforce is retiring as it ages. Plus, with the ongoing need to upgrade current systems, nuclear facilities will continue looking for qualified workers.
Photo Credits
Medioimages/Photodisc/Photodisc/Getty Images