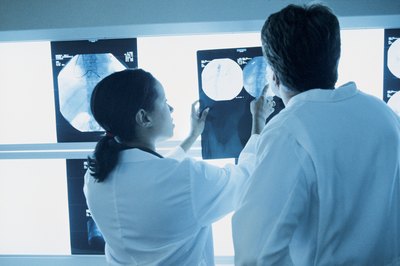 Long thought of as a man's condition, heart disease is the number one killer in women, with over 420,000 women dying from cardiovascular diseases each year, according to the National Coalition for Women with Heart Disease. Modern medicine has nuclear cardiology technology, which allows doctors to diagnose and treat cardiovascular diseases, leading to earlier diagnoses and a better prognosis for women with heart disease. Nuclear cardiology technologists operate radiology equipment to take images of the heart, which doctors use to diagnose cardiovascular issues. Nuclear cardiology technologists receive specialized training and certification from the Nuclear Medicine Technology Certification Board.
Purpose
Because not all states require a nuclear cardiology technologist to earn a license before practicing, certification from NMTCB offers another way for employers to ensure they hire qualified individuals. Techs with the NMTCB's Nuclear Cardiology Technologist designation show employers they have completed rigorous education and testing requirements and have the skills and know-how to work as a nuclear cardiology technologist. In some states, the requirements for licensure are the same as certification, so a tech can kill two birds with one stone, earning both certification and a license at once.
Eligibility
Candidates must fulfill certain eligibility requirements, including current certification as a nuclear medicine technologist from NMTCB, the American Registry of Radiologic Technologists or the Canadian Association of Medical Radiation Technologists to earn the certification. Candidates must have real-world experience, including at least 4,000 hours clinical experience as a registered NMT or 700 hours clinical experience in nuclear cardiology under the supervision of a certified NCT, physician or radiologist. Candidates must also submit an application and pay the application and exam fees.
Exam
Candidates for NCT certification must take and pass the NMTCB exam, which consists of 100 multiple-choice questions and takes three hours to complete. The text covers topics like nuclear medicine imaging procedures, anatomy, physiology, pathology, radiopharmaceuticals, exercise stress testing and patient care. Test-takers receive test results within two weeks of taking the exam. To help candidates study for the test, several other organizations, like the Southwestern Chapter of the Society of Nuclear Medicine, offer exam study guides, practice tests and study groups.
Recertification
The NCT certification lasts seven years, at which point the tech must recertify. Recertification requires a recertification exam. Each year, a tech must also renew, which simply means she submits an online form and pays the annual fee. The NCT designation does not require any additional continuing education credits, but as an NMT, techs must take at least 24 continuing education hours every two years. The NCT exam counts as 24 hours of CE to go toward that NMT requirement.
2016 Salary Information for Nuclear Medicine Technologists
Nuclear medicine technologists earned a median annual salary of $74,350 in 2016, according to the U.S. Bureau of Labor Statistics. On the low end, nuclear medicine technologists earned a 25th percentile salary of $62,900, meaning 75 percent earned more than this amount. The 75th percentile salary is $88,610, meaning 25 percent earn more. In 2016, 20,100 people were employed in the U.S. as nuclear medicine technologists.
Photo Credits
Comstock/Comstock/Getty Images