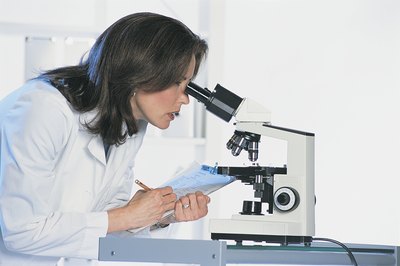 Think women's health, and you probably imagine fields like gynecology or obstetrics. But as a neuropathologist, you could have a huge effect on women's well-being. Consider the stats: 20 percent of women suffer from migraines. More women than men die of strokes. And women are three times likelier to have multiple sclerosis. As a neuropathologist, you'll diagnose and treat diseases of the brain, and maybe even help with research to find better treatments or cures. But first, you'll need a decade of education, including medical school and residency. Finish training, and you'll enter a profession in which demnd is rising.
Diagnosis
Neuropathologists work as medical sleuths, studying samples of brain tissues to investigate brain diseases. Their findings help neurologists diagnose tumors and other disorders. Sometimes, neuropathologists look at brain tissues during surgery to help neurosurgeons figure out where or how to operate. Beyond the brain, neuropathologists zero in on nerves in the arms and legs, to spot dystrophies. But they don't spend every minute in the lab: Neuropathologists also work with patients and families to take medical histories and learn about symptoms that help them track down brain-based health culprits.
Collaboration
When they're not glued to the microscope, neuropathologists team up with other health professionals. They help neurologists choose the right diagnostic tests and determine the best treatments. Plus, they advise neurologists and patients on lifestyle changes that prevent problems -- quitting smoking or losing weight to stop that looming stroke in its tracks. Neuropathologists also work with radiologists, oncologists, neurosurgeons and neurophysiologists. And it's the neuropathologist's job to keep tabs on test deadlines and costs.
Other Duties
Brain science constantly changes, so neuropathologists have to stay up on the latest research and neuroscientific literature. And they use hospital databases of patient records to spot health trends. Their jobs regularly take them outside the hospital to give speeches at industry events or to publish articles in medical journals. Neuropathologists may specialize in forensics, and testify about their findings in court cases. Plus, because most neuropathologists work in teaching hospitals, they often train residents. Finally, hospitals turn to neuropathologists, along with other doctors, for feedback on how to improve the quality of care.
Credentials
Neuropathologists need a medical degree and a state license to practice. Specialized post-med school training in the field is a must as well. To get board certification through the American Board of Pathology, they have to complete a two-year neuropathology residency or fellowship through a program with a stamp of approval from the Accreditation Council for Graduate Medical Education. They also have to pass a certification exam in neuropathology.
Outlook
Doctors in general enjoy a bright career outlook. The U.S. Bureau of Labor Statistics forecasts 24 percent job growth in medicine from 2010 to 2020. That's well above overall job gains of 14 percent. The BLS doesn't track job growth by specialty, but neuropathologists may enjoy especially strong demand. That's because the number of patients with brain disease is expected to increase as the population ages. The number of people aged 65 and older will more than double from 2010 to 2050, to 88.5 million, and many of them will need treatment for dementia-related disorders.
2016 Salary Information for Physicians and Surgeons
Physicians and surgeons earned a median annual salary of $204,950 in 2016, according to the U.S. Bureau of Labor Statistics. On the low end, physicians and surgeons earned a 25th percentile salary of $131,980, meaning 75 percent earned more than this amount. The 75th percentile salary is $261,170, meaning 25 percent earn more. In 2016, 713,800 people were employed in the U.S. as physicians and surgeons.
Photo Credits
Comstock/Comstock/Getty Images