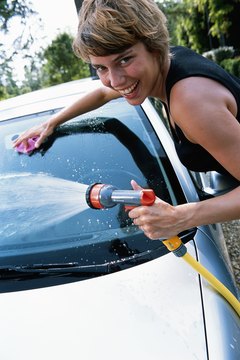 In 2007, according to the U.S. Census, there were 7,793,000 women-owned businesses in the United States. Joining this group of entrepreneurial women is very tempting, but it may be difficult to find a business that suits you. however, prospective business owners may want to consider a mobile car wash service. This type of business comes with low overhead, moderate start-up costs and no occupational costs. Starting any small business is both exhilarating and a little frightening, so it is imperative that entrepreneurs file the correct paperwork in the beginning to avoid legal fees in the future.
Licenses and Permits
A successful businesswoman maps out a detailed business plan prior to starting her company. That plan includes applying for any applicable state business licenses and permits. Each state varies in regard to the required licenses for a mobile car wash, but to locate the requirements for your state, log onto the Small Business Administration website. The site has an interactive tool that allows users to input their city, state and county information to determine what is needed for their business. For example, in Oakland, California, a mobile car wash owner needs a seller's permit. Additionally, they may need a fictitious business name if using a DBA or "Doing Business As" name. If the company will be a corporation or partnership then a filing with the Secretary of State is in order. Almost every state requires a license or permit of some sort to sell services, including mobile car washes.
Zoning Concerns
Getting the proper permits and licenses is important, as is making sure that you are able to operate your mobile business. Many cities and counties have zoning laws governing where a business can set up. Mobile car washes tend to have water drainage that may interfere with local laws governing discharges. Oakland, California requires owners of car wash facilities to carefully review the waste discharge requirements of the state before operating. Some Florida cities also have strict laws on the books regarding mobile car washes. Typically you are safe if you are on private property, though you should check your city ordinances before setting up shop.
Other Licenses
In addition to a business license, you may be surprised to learn that some cities or states may require an occupational license as well. Even though you aren't exactly working out of an office with your mobile car wash business, you will need to attach this license to your car, truck or van while you work, just in case you encounter any code enforcement officers. Areas like Broward County in Florida require mobile car wash operators to have a home office license in addition to the occupational license. The laws surrounding mobile car wash services are very nuanced; it is best to check with both city and county offices in advance of purchasing equipment to make sure that you will be able to operate hassle free.
Other Concerns
A mobile car wash business costs significantly less to start than a brick and mortar company, but you should still be aware of hidden costs. In addition to paying for supplies and equipment, you may have to pay a corporate filing fee if you incorporate. Incorporating involves paperwork that costs money to prepare, but in the long run this could help prevent a lawsuit from taking your personal assets. This is because setting up a company as a sole proprietor means that you and the company are one entity. If someone sues your company and wins, then you could lose your assets. For a corporation, only the business is sued and your personal assets are protected.
Resources
Photo Credits
David De Lossy/Photodisc/Getty Images