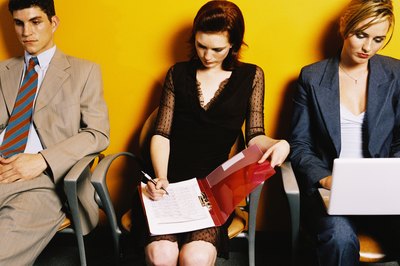 A job interview is really just another sales presentation. Only this time it's you that you're selling – your skills, your drive and your fit for the position. During a second interview, you can't expect to get the same questions and the friendly reception that you got the first time. Do your homework once you get the call for the second interview. According to sales recruiter Aaron Wallis, the second interview is going to get down and dirty with numbers. In the first interview, interviewers gauge your personality to see if you'd be a good fit for the company. It's in the second interview that you need to prove yourself.
Assess your weaknesses. Honestly assess your drawbacks as a candidate- the interviewer is going to when comparing you to other candidates. Be proactive and bring up those weaknesses and tell the recruiter what you are doing to improve. For example, if your computer skills aren't quite up to par, mention the night classes you're taking at the community college or the online courses you've just completed through an industry association.
Counter objections with positive comebacks. Ask questions to find out the recruiter's real concern so that you can turn it around. For example, if the recruiter says she is concerned that you're overqualified for the sales job, you need to find out the interviewer's real concerns. It might be your age, your salary needs or your management experience that's giving her pause. Counter the objection by saying your age is a plus because of your maturity, you're not worried about the salary because you know you can make up for it in commissions or that you have absolutely no desire to manage again.
Provide additional concrete examples of your selling skills and experience: Showcase your skills with hard evidence. Put together a portfolio and include copies of your association memberships, referral letters and charts of your sales volume. Bring spreadsheets that show your sales figures for the last year. Make a chart that portrays sales growth at your previous firm. Give interviewers a partial list of the number of contacts that you'll bring with you to the job.
Furnish secondary reference sources to bolster your claims. Point out the additional references that you include in your portfolio and that these managers, vendors and CEOs can attest to your excellent communication skills or your financial savvy. Bring former client letters of gratitude. Get a letter of recommendation from your most recent professors or from the chair of an industry association committee on which you served attesting to your talents.
Items you will need
Portfolio

List of references

Fact sheets of sales figures

Chart of sales growth
Tips
Be bold and say something like "so when can I start?" Or try a soft close first by asking how the interviewer thought the meeting went. Then ask when you can give notice to your old employer.

Try an affirmative close and say "This went well. I'd like to get going with this job and start within the next three weeks."
Warning
Dress comfortably and eat a healthy breakfast before you go to the interview because you can't expect to get out of there quickly at a second interview -- and you need to stay composed and energetic during the entire process. According to the Local Government Institute, second interviews can last for an hour or even an entire day and may even include lunch and dinner, series of tests, multiple meetings and a tour of the facility.
Photo Credits
Stockbyte/Stockbyte/Getty Images