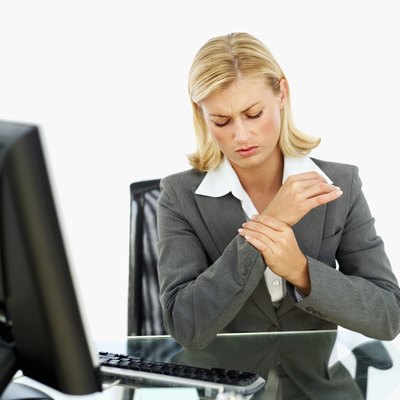 The U.S. Bureau of Labor Statistics tracks workplace illness and injury statistics are tracked for the Occupational Safety and Health Administration on a yearly basis. The data comes from workers' compensation claims filed by employees because of work-related injuries. This data helps employers to develop safety awareness programs to prevent as many workplace injuries as possible. Computers have played a big part in the increase of musculoskeletal disorders, or MSDs, on the work front.
Injury Types
Musculoskeletal disorders, also known as MSDs, include disorders or injuries of the supporting structures of the upper and lower limbs, neck and back. They also involve problems with nerves, tendons, joints and cartilage. These problems often are caused by awkward postures, prolonged repetitive motions or sudden exertion. Carpal tunnel syndrome is a common MSD experienced by people who use a computer and mouse all day long.
Musculoskeletal Disorders
The Bureau's 2011 statistical reports indicate there were more than 1.8 million injuries reported overall that year. There were 387,820 musculoskeletal injuries, which represented 33 percent of all injuries, with at least 26 percent of MSD injuries attributed to just six occupations, including janitor and cleaners, heavy and tractor-trailer truck drivers, registered nurses, nursing assistants, laborers and stock clerks.
Nature of Injury
Sprains, strains and tears accounted for a 44.4 incidents per 10,000 employees; soreness and pain 14.5 incidents; and bruises and contusions accounted for 10.2 incidents per 10,000 employees. Other reported injuries included fractures, amputations, chemical burns and corrosion, carpal tunnel syndrome, thermal burns, and cuts, lacerations and bruises.
Causes
The biggest culprit of MSDs is overexertion and bodily reaction at 41.3 incidents per 10,000 employees. Falls, slips and trips come in second place with 29.7 per 10,000 employees, and contact with objects or equipment resulted in 26.9 incidents per 10,000 employees. MSDs resulted in an average of 11 days off from work. Carpal tunnel syndrome injuries only represented 1 MSD injury incident rate overall, but they accounted for an average of 28 days off from work.
Factors that Lead to MSDs
Improper lifting techniques or not taking enough breaks away from the computer contribute to the majority of MSDs. A file cabinet drawer left open, slippery floors, faulty floor mats or icy steps all cause falls, slips and trips. Safe work practices and employee education can eliminate a majority of workplace injuries. Companies that create ergonomic workstations might spend more money on furniture, but they'll recoup it on the back end with reduced musculoskeletal problems due to overexertion or bodily reactions.
Photo Credits
George Doyle/Stockbyte/Getty Images