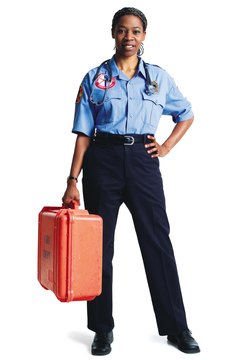 You could earn over $53,050 annually as a paramedic if you are among the top 10 percent in pay, according to May 2011 data from the Bureau of Labor Statistics. But you better not be one of those squeamish types who are sickened by blood, as your job would include taking vital signs and administering emergency medical treatment to victims of accidents, fires and natural disasters.
Average Income & Benefits
Paramedics made an average income of $34,030 per year in 2011, according to the BLS. Your income would likely fall in the $24,240 to $40,440 range, which is what the middle 50 percent earned. Those in the lower 10 percent made less than $19,880 annually. Expect excellent benefits if you are among the 22 percent belonging to unions: medical insurance, paid time off and retirement plans are some of the perks for jobs in this field. And there's an opportunity for overtime pay, as one-third of all paramedics worked beyond their regular hours, according to BLS' information.
Income by Industry
Forty-eight percent of U.S. paramedics work for general or surgical hospitals, providing care by ambulance, according to the BLS. If you are among this group of medical specialists, your would earn $34,170, or about the national average. You could earn significantly more working to support mining functions or as an employee of the state government. These folks made $59,770 and $50,620 per year, respectively. However, there's a much greater risk of danger in the former industry.
Income by State/District
You would earn the most money as a paramedic in the nation's capital--$50,140 per year, according to the BLS. Your annual pay would also be relatively high in Illinois at $43,950 per year. But expect to earn less in Texas and Pennsylvania at $31, 910 and $31,690 per year respectively. And if you would only earn $29,220 per year in Kentucky.
Education & Training
The minimum requirement for becoming a paramedic is a high school degree. You must also have a clear criminal record and be at least 18 years old. To attain paramedic status, you would first need to complete both basic and advanced emergency medical technician or EMT training. Basic training would require 100 hours of classroom and practical training, according to the BLS. And you would spend about 1,000 hours in advanced EMT training. Subsequently, you would spend about 1,300 hours over two years training to attain paramedic status. Most people attend technical schools or community colleges to meet the education and training requirements, and then seek certification by the National Registry of Emergency Medical Technicians in order to be eligible for a paramedic license.
Employment Outlook
Your future as a paramedic looks promising, but your nights full of a peaceful eight hours of slumber are probably over, as many paramedics work a nontraditional schedule. The BLS reports that the number of paramedic jobs are expected to increase by 33 percent between 2010 and 2020. Population increases can spur more violence. The number of accidents may also increase. But an aging population is the main factor for more job openings in this field. Older people tend to require the service of paramedics more frequently.
2016 Salary Information for EMTs and Paramedics
Emts and paramedics earned a median annual salary of $32,670 in 2016, according to the U.S. Bureau of Labor Statistics. On the low end, emts and paramedics earned a 25th percentile salary of $25,850, meaning 75 percent earned more than this amount. The 75th percentile salary is $42,710, meaning 25 percent earn more. In 2016, 248,000 people were employed in the U.S. as emts and paramedics.
Photo Credits
Photodisc/Photodisc/Getty Images