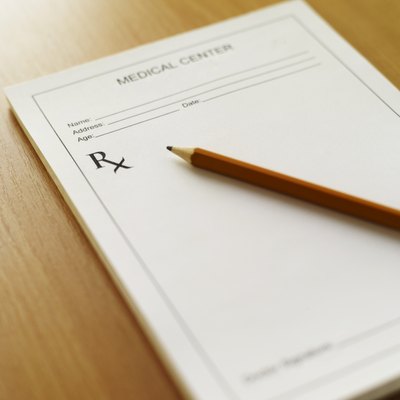 Pharmacy technicians are far more prominent in 2013 than in the past, when pharmacists used to handle their own clerical duties. Today, pharmacy technicians are responsible for most of the preparation and selling of medicine, while a pharmacist remains on hand to supervise. How much they earn, however, depends on their employer and geographic location.
National Averages
The annual median wage of pharmacy technicians as of May 2010 is $28,400. In hospitals, however, pharmacy technicians earn $32,400 on average. The lowest 10 percent make less than $19,840. In contrast, the highest top percent clear $40,710. On an hourly basis, pay ranges from $9.89 to $20.38.
By Industry
As of May 2012 the industry with the highest level of pharmacy technicians were health and personal care stores, employing a total of 188,260 at $28,940 a year. Other industries with high employment include general medical and surgical hospitals, grocery stores and department stores. The top-paying industry, according to the U.S. Bureau of Labor Statistics, was the federal government, which paid an average annual salary of $40,650. Other industries of consideration include outpatient care centers, physician offices, colleges and consulting services.
Regional Comparisons
As of May 2012, California topped the list for the most pharmacy technicians. Its employment totaled 30,540 with a salary of $39,150 a year. Texas, Florida, New York and Illinois all ranked in the top five for employment. The top-paying state, however, was the District of Columbia, which paid its employees an average of $40,560. Other high-paying states include Washington, Alaska, California and Hawaii.
Career Outlook
Pharmacy technician careers are expected by the BLS to grow 32 percent between 2010 and 2020, which is faster than the national average of all careers. Its growth is attributed to advances in pharmaceutical research and more prescriptions used in the race to cure illnesses. Those who will enjoy the most success in the field are technicians with formal training and an experience in retail.
2016 Salary Information for Pharmacy Technicians
Pharmacy technicians earned a median annual salary of $30,920 in 2016, according to the U.S. Bureau of Labor Statistics. On the low end, pharmacy technicians earned a 25th percentile salary of $25,170, meaning 75 percent earned more than this amount. The 75th percentile salary is $37,780, meaning 25 percent earn more. In 2016, 402,500 people were employed in the U.S. as pharmacy technicians.
Photo Credits
Stockbyte/Stockbyte/Getty Images