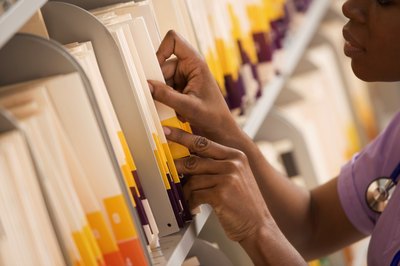 Whether they are called medical records coordinators, coders or health information technicians, medical records clerks process health care data in hospitals, doctors' offices, nursing homes and other medical facilities. They spend much of their time in front of computer monitors in offices. Their schedules may span day and night shifts with employers that are open 24 hours a day.
Duties
Medical records clerks receive, organize and store paper or digital information relating to health care, such as patient contract information, medical histories, diagnoses and treatments. At small facilities, such as doctors' offices, they may handle all health care information, while at large concerns, such as hospitals, they may focus on specific types of data, such as insurance claims or patient billings. They first review any forms submitted by patients or medical facilities for accuracy. They then classify such information, often using numerical codes, to provide consistent information to medical providers and reimbursement systems, such as insurance. If they have questions on what they have received, they typically contact medical personnel for clarification.
Types
Most medical facilities use electronic health records, so much of the clerk's duties involve assigning classification codes to diagnoses and treatments through computers. Clerks use specialized software to analyze information and print reports for use by reimbursement specialists, government agencies and medical providers. These clerks are more often known as coders. Cancer registrars specialize in cases of patients with both malignant and benign tumors. They follow up annually on any cases to track recovery and survival, and compile information for research. Their data can go into facility, regional and national cancer databases.
Confidentiality
For many patients, health care treatment is a sensitive subject that affects not only how society treats them but also the type of care and reimbursement they receive. Medical records clerks must treat patient confidentiality and security as one of their prime responsibilities. The American College of Healthcare Executives sees confidentiality as becoming increasingly difficult in an age where technology makes data available anywhere through a mouse-click. Clerks must follow strict guidelines and periodically audit their procedures to safeguard patients. They also must meet regularly with computer staffers to ensure that their equipment remains free of any malware designed to steal patient information.
Careers
Employers typically demand post-secondary training for medical records clerks up to an associate degree. Certifications, including Certified Tumor Registrar or Registered Health Information Technician, can enhance job prospects. The Bureau of Labor Statistics sees jobs for medical records clerks increasing 21 percent from 2010 to 2020. This is primarily due to a large baby boomer population that will require medical attention as they age. The best job prospects will go to those with certification and computer expertise.
Photo Credits
Medioimages/Photodisc/Digital Vision/Getty Images