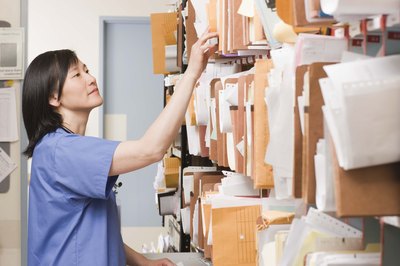 Keeping up with all the medical records electronically and in hard copy takes a slew of workers, which is why the field of medical records is poised to grow at least by 21 percent between 2010 and 2020, according to the Bureau of Labor Statistics. You need to know billing codes, patient classification systems, and how to maneuver the registries and databases kept by health care providers to do well in this job.
Basic Training
You'll need at least a certificate or associate degree in medical records to even apply for any other credentials. It's during that postsecondary training that you'll get the basics through book study and hands-on practice. You'll study anatomy, medical terminology, reimbursement methods used by health care providers, and coding and classification systems. Computer use, statistics and health care standards and data requirement classes prepare you to start working.
In the Classroom
Most of your training takes place in the classroom. You'll have plenty of memorization to do as you learn the various coding models and how they apply to billing procedures. You won't be expected to remember them all, but, by the end of the class, you'll know where to look for answers. The number of books and coding instruction sheets you'll need to purchase depends on the course requirements. In the classroom, you'll get hands-on experience filling out standard patient history forms and billing authorizations used by insurance companies.
On the Computers
An integral part of your training is done directly on the computers where you'll get a chance to actually enter codes and billing information. Practice on the equipment is an important part of the training procedures. Electronic medical billing is used in almost all health care practices, so you need to leave class proficient in the many common programs and systems used in the industry. Entering data; creating and maintaining personal health histories for patients; and understanding and using interactive documentation services are skills you'll be expected to perform on the job. Additionally, the hands-on computer training prepares you to take the Registered Health Information Technician exam online, which is required by many employers.
At a Worksite
Before you graduate from many training programs, you'll spend time in a medical office doing an externship or internship. As an intern, you'll be paid for your work and earn credits toward a certification or degree. Externs, on the other hand, only spend a short time, anywhere from a couple hours to a couple weeks, on the job with no pay and no actual credit hours. As part of the required procedure in the learning process, an externship gives you valuable experience you can put on your resume. At the same time, you may even meet a potential employer if you make a good impression.
2016 Salary Information for Medical Records and Health Information Technicians
Medical records and health information technicians earned a median annual salary of $38,040 in 2016, according to the U.S. Bureau of Labor Statistics. On the low end, medical records and health information technicians earned a 25th percentile salary of $29,940, meaning 75 percent earned more than this amount. The 75th percentile salary is $49,770, meaning 25 percent earn more. In 2016, 206,300 people were employed in the U.S. as medical records and health information technicians.
Photo Credits
Jupiterimages/Comstock/Getty Images