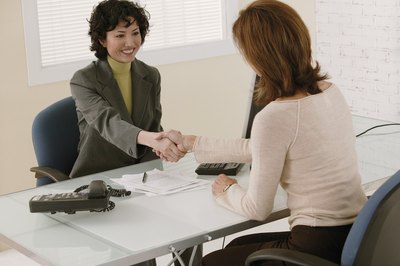 Nothing could be more encouraging than getting an invitation to interview for the third time -- which often is the final interview -- with a company for which you've spent weeks researching and envisioning yourself as an employee. Your final interview means the company is going to extend an offer or is making a final comparison between you and another short-listed candidate.
Process
Businesses that have structured recruitment and selection processes conduct at least two, and possibly three, interviews. A preliminary phone interview screens for basic requisites, one face-to-face interview to glean more details about your qualifications and job knowledge and a third and final in-person meeting with the hiring manager to determine whether bringing you onboard is a good choice. This kind of vetting process is common, so when you reach the third and final meeting, it's safe to assume that you're among the finalists, if not the only finalist, for the job.
Questions
During the first two interviews, the hiring manager focused on your skills and capabilities. She may have asked questions about your work experience, your academic performance if you're a recent graduate and noteworthy accomplishments if you're a seasoned professional. These first two interviews consist of typical questions that explore how you resolve workplace challenges, if you have the functional expertise to actually do the job and your ability to articulate your skills and interests. Questions during a final interview are more about you as a professional and less about your skills set.
Culture
Intuition and gut feeling are such subjective bases on which to make hiring decisions that many decision makers reluctantly admit that they just go with what "feels right" when they decide whether to extend a job offer to the candidate they feel comfortable with. When hiring managers know each short-listed candidate is exceptionally qualified, it's time to decide which candidate fits the workplace culture. Within the context of hiring decisions, workplace culture doesn't imply non-job-related factors, such as race, national origin, religion or gender. In fact, those factors are dangerously close to discriminatory selection practices. Instead, workplace culture refers to parallels between your business philosophy, values and personal ethics and the organization's mission and goals. An invitation to a final interview means you have an opportunity to share who you are, rather than what you do.
Pitch
In your final interview, the hiring manager expects to hear your pitch why you're the most suitable candidate. In addition, this is your chance to learn whether accepting an offer from this company will be good for your career and professional development. At this time, a job offer is probably forthcoming. Reiterate your interest in the organization but not with such fervor that you appear desperate. With genuine enthusiasm, explain that you believe that your signing on with the company is going to be mutually beneficial.
Closing
Close the final interview like you would a customer sale. Show confidence in your ability to work both independently and as a team player to further the company's goals. As you close the interview, indicate how delighted you would be to consider an offer. Hiring managers are looking for candidates who come to the third, and usually final, interview with some thoughts about whether they'll accept an offer. A final interview means that the hiring manager wants one last chance to ensure that she doesn't let someone with your talent slip through her fingers.
Photo Credits
Comstock/Comstock/Getty Images