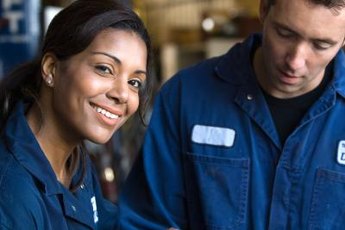 i
Jupiterimages/Photos.com/Getty Images
Marine mechanics keep your boat afloat. Sometimes called marine technicians, marine mechanics service inboard and outboard boat motors. They repair watercraft engines of all types, including those on ski boats, pleasure boats, private fishing boats, commercial fishing boats, cabin cruisers and yachts. You only need a high school diploma to become a marine mechanic, but employers prefer to hire marine mechanics who have earned one or more certifications from industry professional associations such as the American Boat and Yacht Council and the Association of Marine Technicians.
Step 1
Graduate from high school or earn a GED. Take small engine repair or auto mechanic classes if available at your high school. Community colleges and technical schools typically require a high school diploma for admission, and a number of larger community college systems offer marine mechanic training programs leading to an associate degree.
Step 2
Investigate the ABYC and AMTECH marine mechanic certification programs and decide which is right for you. AMTECH offers a 450-hour Marine Career Training Institute of North America (MCTINA) entry-level technician certification program. ABYC offers a number of advanced certifications for those with some experience in marine systems and marine engines.
Step 3
Complete one or more motorboat manufacturer certification programs. Most motorboat manufacturers also offer classes or certifications related to their products, and these certifications are a great way to get your foot in the door as a marine mechanic. Mercury Marine, for example, offers its Mercury University marine mechanic certification program.
Step 4
Enroll in and complete the marine mechanic certification program of your choice. AMTECH's entry-level marine technician certification program can be completed in three months on a full-time basis and in nine months on a part-time basis. The program focuses on hands-on experience repairing gas and diesel engines. Training takes place in a working marine service facility, with experienced marine technicians doing the teaching.
References
Resources
Tips
Consider earning additional ABYC marine mechanic-related certifications. These offer advanced gasoline engine and support systems and diesel engine and support systems certifications designed for experienced marine mechanics. You can earn ABYC master technician status by completing at least three of the eight ABYC certifications.
Writer Bio
Clayton Browne has been writing professionally since 1994. He has written and edited everything from science fiction to semiconductor patents to dissertations in linguistics, having worked for Holt, Rinehart & Winston, Steck-Vaughn and The Psychological Corp. Browne has a Master of Science in linguistic anthropology from the University of Wisconsin-Milwaukee.