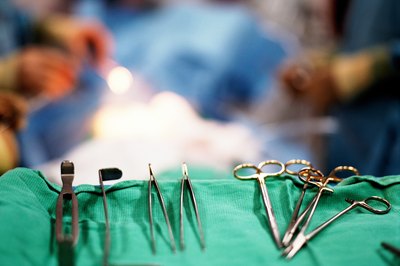 Surgical technologists play an essential role in the operating room. They perform a variety of tasks, from organizing the instruments to preparing the patient for surgery. Demand for surgical technicians is strong, reports the U.S. Bureau of Labor Statistics. Applicants for a position in surgical technology must have a well-formatted, professional resume and cover letter that stands out from all the others to be considered for the job.
Resume
Type your contact information at the top of the page. Your contact information should include your name, permanent address, telephone number, and email. You may also include the URL of your professional website or a fax number, if you have them.
Create a "Skills" heading and list the skills you have as a surgical technologist, such as creating a sterile field, urinary catheterization, and preparing instruments for decontamination. If you have many skills, divide them into three sub-sections: "Postoperative Preparation," Intraoperative Procedures" and "Postoperative Procedures."
Include a heading for "Education." List the colleges and universities you attended in reverse chronological order. Under the names of the schools, list the degrees that you earned and the dates you earned them. You may choose to only list the school where you earned your degree in surgical technology, or you can include other degrees beyond high school, if you have them and if you think they will aid your job search.
Create a heading that says "Experience." Under this heading, list the employers you have had. If you have experience working as a surgical technologist, focus on those job experiences and omit any non-related experiences. List any special skills or duties you have had as part of each job under each employer. Highlight any job duties or titles that go above and beyond the typical duties of a surgical technician, such as if you were trained to become a surgical first assistant
Type a heading for "Honors and Activities." In this section, list any volunteer experiences you have had, any awards you have, any scholarships you have received, and any other related extracurricular activities you participate in. Highlight any activities or memberships closely related to your position as a surgical technologist, such as a membership in the Association of Surgical Technologists. Include the dates you earned the achievement or participated in the activities.
Create a heading that states "References," and then type "Available upon request."
Cover Letter
Type your permanent address at the top left corner. Skip a line and type the date. List the hiring manager's name and title, the name of the health care organization, and the organization's address. Skip a line and type "Dear Dr./Mr./Ms. (Last name):"
Create an introductory paragraph. In this paragraph, explain that you are interested in the surgical technology position and mention where you saw the advertisement for the position or how you found out about it. State that you wish to be considered for the position.
Construct a paragraph about your educational experiences. Discuss your degree or qualifications in surgical technology, such as if you have earned an associate's of science in surgical technology. Highlight any special training or certifications that you possess, such as any externships in surgical technology. Explain how these experiences will make you a good candidate for the position.
Type a paragraph about your employment experiences. Explain your hands-on experiences as a surgical technologist. Include any special skills or experiences that you have had on the job, such as if you have special training to monitor patients when they recover from anesthesia or if you have training to keep a written account of the surgical procedure.
Create a closing paragraph that thanks the hiring manager for his or her time. Give a polite request for an interview, and reiterate your contact information, as well as state times you can be contacted. Type "Sincerely," and skip two lines. Type your full name.
Items you will need
High quality resume paper, optional
Tips
Format each section so that it is pleasing to the eye and easy to skim. Make the headings and your name bold so they stand out, and place them in a distinctive, yet easy to read font. Place lists of skills, duties, or awards in a bulleted format.

If the employer asks for a hard copy of the resume and cover letter, print the cover letter on high quality resume paper. Sign your name in blue or black ink directly over your typed name.
Warning
A single error may be enough to cause an employer to discard your resume and cover letter. If you are not a good proofreader, have a trusted friend or colleague who is skilled with proofreading help you.
Photo Credits
NA/Photos.com/Getty Images