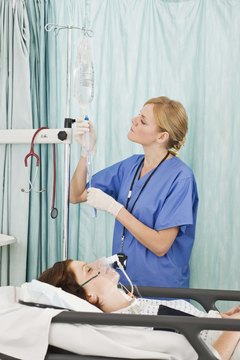 To get really hands-on with patients, consider a career as a licensed vocational nurse. LVNs work under registered nurses and doctors to provide routine patient care, such as taking vital signs, administering medications, changing wound dressings or collecting test specimens. To get licensed, LVNs, who are called licensed practical nurses in all states besides Texas and California, need to complete training and pass a national exam. Personal qualities such as people skills and compassion are musts, as well.
Education
Licensed vocational nurses must complete a one- to two-year training program through a community college or technical school. Programs include coursework in anatomy, physiology, nutrition and algebra, as well as training in gerontology, musculoskeletal care, oncology nursing, cardiovascular and respiratory therapies and endocrine disorders. Students also get hands-on experience in laboratories and hospitals or clinics. Before starting class, students must provide proof of immunizations and professional liability insurance. They also need to know CPR. Plus, they must submit to a physical exam, drug screen and background check.
Exam
After graduation, candidates must take the National Council Licensure Examination for Practical Nurses, NCLEX-PN, to determine whether they can practice. Individual states administer the exam, which lasts five hours and includes 85 to 205 questions. The multiple-choice test includes questions on safety and infection control, pharmacological therapies, patient rights, patients' personal hygiene, pain management and medical emergencies.
Licensing
Nurses who complete training and pass the NCLEX-PN can apply for a license to practice. However, nursing boards consider factors besides education and test scores. The Texas Board of Nursing may refuse a license for an applicant with diagnosed mental or physical health issues, or a history of alcohol or drug abuse. Plus, candidates who have been convicted of a crime may not qualify. California requires a federal background check, including fingerprinting.
Qualities
LVNs need several personal characteristics. People skills are at the top of the list, because nurses interact with patients and health-care specialists of all backgrounds. Communications skills also are essential so that LVNs can accurately discuss a patient's condition with other care providers. Plus, LVNs see people at their worst — often in pain from illness or injury — so patience and compassion are musts. It's also important that LVNs be detail-oriented, so they don't overlook important treatment details or give patients the wrong therapies. Finally, strength and stamina are vital, because nurses spend long hours on their feet or bending over and assisting patients.
Careers
LVNs can choose careers in a variety of settings. The largest share, at 29 percent, worked inside nursing homes as of May 2010, according to the U.S. Bureau of Labor Statistics. LVNs in nursing homes provide basic care and help to evaluate patient needs and care plans. They also supervise nursing assistants. Another 15 percent were employed with general hospitals, taking vital signs, administering medications, changing dressings and helping patients with personal hygiene. Twelve percent worked in doctors' offices, handling basic patient assessments, helping with tests and treatments and following up on home care. LVNs also work for home-care agencies, visiting clients in their homes to check on their condition and assist them with routine personal tasks.
2016 Salary Information for Licensed Practical and Licensed Vocational Nurses
Licensed practical and licensed vocational nurses earned a median annual salary of $44,090 in 2016, according to the U.S. Bureau of Labor Statistics. On the low end, licensed practical and licensed vocational nurses earned a 25th percentile salary of $37,040, meaning 75 percent earned more than this amount. The 75th percentile salary is $51,220, meaning 25 percent earn more. In 2016, 724,500 people were employed in the U.S. as licensed practical and licensed vocational nurses.
Photo Credits
Jupiterimages/Polka Dot/Getty Images