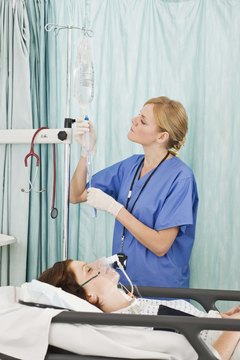 If you've dreamed all your life of working in health care, you might consider training as a licensed practical nurse, or LPN. Usually it only takes about a year of training, followed by a certification exam and state licensing. Once you're finished, you can start working right away in hospitals, nursing homes and other facilities. It's a responsible profession, but it's important to understand that LPNs are restricted in their duties.
Job Responsibilities
Most LPNs provide direct, front-line patient care. Typically that means hands-on patient care, working with seniors or post-operative patients to take care of their daily needs. That might include bathing or dressing them, helping them eat or go to the bathroom, or guiding them through daily range-of-motion exercises. You'll record their vital signs regularly, change dressings and catheters, and monitor their overall condition. Often you'll be the caregiver who has the most contact with a patient, so it's your job to recognize signs of infection, bedsores, adverse reactions to medication, or the onset of dementia.
Scope of Practice
Each state's board of nursing creates a document called a scope of practice, which explains what you can or can't do as an LPN. For example, some states let you start intravenous drips or administer medications, while others don't. Some require you to have specialized certification in IV use or pharmacology. In restrictive states -- or in workplaces that impose similar restrictions -- these duties are limited to registered nurses. Some states have very specific scopes of practice, while others use general language to allow for your role to evolve.
Restrictiveness
Registered nurses are in high demand, and there are chronic shortages in some areas of the country. A 2007 study published by the University of Oregon evaluated the potential for LPNs to relieve the shortage by practicing at a higher level. As part of that study, the authors rated state scopes of practice by their restrictiveness, and by how specific they were. Iowa was the most restrictive, though California, Alaska and several other states set sharp limits on their LPNs' duties. Massachusetts, New Jersey, Vermont, Washington and several others were relatively open. For the most part, restrictive states also used the most specific language in limiting nurses' activities.
Coping
If you're frustrated by the limits of LPN practice in your state, you have some options. The National Association for Practical Nurse Education and Service and the National Federation of Licensed Practical Nurses offer specialized certifications, which can earn you the right to do more. If you live near a state border, you might explore the option of getting licensed in a more permissive state. Returning to school and becoming an RN is another option. Many schools offer streamlined programs that give you credit for your LPN training, and some are offered on a part-time basis to accommodate working nurses.
2016 Salary Information for Licensed Practical and Licensed Vocational Nurses
Licensed practical and licensed vocational nurses earned a median annual salary of $44,090 in 2016, according to the U.S. Bureau of Labor Statistics. On the low end, licensed practical and licensed vocational nurses earned a 25th percentile salary of $37,040, meaning 75 percent earned more than this amount. The 75th percentile salary is $51,220, meaning 25 percent earn more. In 2016, 724,500 people were employed in the U.S. as licensed practical and licensed vocational nurses.
Photo Credits
Jupiterimages/Polka Dot/Getty Images