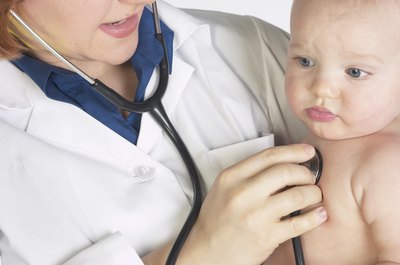 The health-care industry has a career for almost anyone. Which one you might go after depends on what you're interested in and how long you're prepared to spend in training. It only takes a few months to become a phlebotomist, but careers in surgery need 14 to 15 years of training. If you're looking for something in between, you might consider becoming a nurse practitioner. Your total training time is six to eight years, but you can take it one step at a time.
RN Training
Before you can be a nurse practitioner, you need a bachelor's degree in nursing. Many RNs enter the field with a bachelor's degree, and there is a trend in the profession to see it as the best starting point for career-minded nurses. It's also possible to start your career with an associate degree, then upgrade to a bachelor's degree through part-time study after you've begun working and earning an income. In either case, you need to graduate from an accredited program and then pass the National Council Licensure Examination for registered nurses, or NCLEX-RN. It usually takes four years to earn your bachelor's degree, but it takes longer if you're studying part-time.
Practical Experience
You have to have a bachelor's degree in nursing to get into a nurse practitioner training program, but many schools also require you to have some practical experience in the field. The usual standard is two years' hands-on experience in a suitable clinical setting. For example, if you plan to provide primary care in a family practice, you might look for experience in a similar practice. If you plan to work in a hospital or community clinic, nursing time in the same setting is a good idea. Even if your school doesn't require it, some work experience will make you a better practitioner. It also helps to pay those tuition bills.
Graduate Degree
After you've paid your dues for at least a couple of years as a working RN, you can move on to earn your graduate degree and become a nurse practitioner. A master's degree is the minimum requirement, and a doctorate of nursing practice is an even more valuable degree. The master's degree usually takes two to three years, and a doctorate can take up to four. They'll combine advanced medical and scientific coursework with practical experience in a supervised clinical setting, where you gain the necessary skills by treating real patients. At graduation, the new practitioners must pass another national certification exam.
Career
Demand for registered nurses is high and growing, and nurse practitioners are no exception. The Bureau of Labor Statistics projects a 26 percent increase in jobs for nurses by 2020, and specifically mentions nurse practitioners and other advanced-practice nurses as a hot category. In busy clinics and areas where doctors are scarce, you'd play an important role by providing patients with their day-to-day primary care. Like a doctor, you can also choose between family medicine or specialized areas of practice such as women's health or pediatrics.
2016 Salary Information for Registered Nurses
Registered nurses earned a median annual salary of $68,450 in 2016, according to the U.S. Bureau of Labor Statistics. On the low end, registered nurses earned a 25th percentile salary of $56,190, meaning 75 percent earned more than this amount. The 75th percentile salary is $83,770, meaning 25 percent earn more. In 2016, 2,955,200 people were employed in the U.S. as registered nurses.
Photo Credits
Hemera Technologies/AbleStock.com/Getty Images