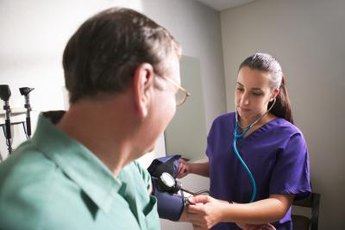 i
Thinkstock Images/Comstock/Getty Images
If you have a drive to be an essential part of the medical field without having to put several years into training, the medical assistant career might be the one for you. Medical assistants take patients' vital signs, medical histories and insurance information. What else they do depends on where they work. Assistants in cosmetic surgery, for example, prep patients, assist during operations and care for incisions when the patients are in recovery. Assistants in laboratories collect specimens for testing, maintain laboratory equipment and record test findings. You can become a medical assistant by choosing one of many paths.
Experience
Since there are no formal educational requirements for medical assistants beyond having a high school diploma, many learn their duties on the job. On-the-job training may take several months under the direction of an experienced physician. Trainees learn such things as how to interact with patients, medical terminology, what each medical instrument is used for and how to keep them sterile. Assistants handle a variety of clerical duties as well, including maintaining patients' records, filing insurance claims and setting up patient appointments.
Certificate Programs
Certificate programs are available at technical and vocational colleges. A certificate of completion isn't the same thing as becoming a certified medical assistant. A certification of completion is earned by successfully finishing an educational course; becoming certified is a voluntary step that gives an assistant added professionalism and status. Certificate programs typically take a year to complete, which may be an advantage to someone who wants to get a formal education under her belt in as short a time as possible.
Associate Degree
Available at vocational and junior colleges, an associate degree is another option. These programs typically take two years to earn, with classroom and laboratory courses covering medical terminology and human anatomy and often include X-ray technology and how to give injections. Taking this educational path is ideal if you intend to further your career down the road; having a degree is a valuable stepping stone.
Voluntary Certification
There are four medical assistant certifications you can pursue, reports the Bureau of Labor Statistics, if you want to boost your employability: certified medical assistant, registered medical assistant, national certified medical assistant and certified clinical medical assistants. Each is accredited by a division of the National Commission for Certifying Agencies. Only the certified medical assistant title requires a formal education at an accredited school before passing an exam. The other three can be obtained simply by being at least 18 years old and passing the certification exam. Being certified doesn't necessarily guarantee you a bigger paycheck, but it will help you stand out among the competition.
References
Writer Bio
Brooke Julia has been a writer since 2009. Her work has been featured in regional magazines, including "She" and "Hagerstown Magazine," as well as national magazines, including "Pregnancy & Newborn" and "Fit Pregnancy."