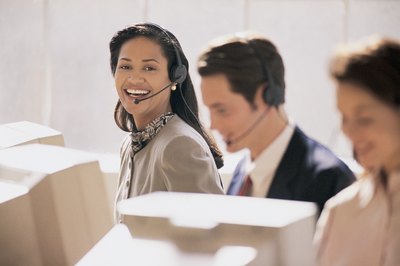 Spanish, Russian, Japanese, Chinese and Mandarin all have one thing in common: they're in demand in the workforce, according to a November 2011 article in the "Chicago Tribune." If you speak one of these languages or one of the many others that are also needed in today's global business environment, the world is your oyster.
Business
Hyperconnectivity and an increase in the global demand for products and talent means businesses need employees who can cross language boundaries. Call centers are just one example of a type of business that increasingly relies on a pool of bilingual employees to meet customer needs. The Forbes website points out that savvy companies both large and small hire bilingual employees to be competitive in the global market.
Education
Bilingual teachers are in such short supply in the United States that school districts often resort to recruiting teachers from other countries to fill their vacancies. You don't have to teach speakers of other languages to find work in education, however. School administrators with language skills are also in demand, as are foreign language teachers. If you are a bilingual educator, you'll not only qualify for jobs in the United States, but for many overseas as well.
Writing
If you enjoy writing, being bilingual offers you more opportunities than your monolingual peers. Today's global economy ensures that the demand for translators is growing much faster than average, according to the Bureau of Labor Statistics. Business documents, advertising and technical manuals are often translated into dozens of languages to meet consumer demand. If your language skills are truly top notch, becoming an editor is another possibility.
Endless Possibilities
Unless your second language is Chamicuro, a nearly extinct Peruvian language with less than 20 speakers, chances are that having a second language will help you in your career. No matter what type of work you choose, you're likely to find that your dual language skills not only help you to get the job in the first place, but to advance once you are there. Your work as a sales associate in a clothier will stand out once your supervisor notices you are the person wealthy Arab clients request to wait on them, for example.
Photo Credits
Comstock/Comstock/Getty Images