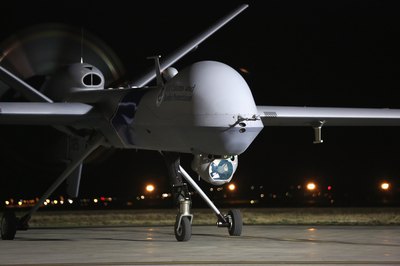 The U.S military relies on unmanned, or drone, aircraft for attack and reconnaissance more than ever. But though drones eliminate the physical risks to pilots in combat situations, those who fly these craft remotely often contend with boredom or combat-related stress. As of August, 2013, demand for qualified drone pilots exceeded the supply in the U.S. Air Force.
Training
The U.S. Air Force, which operates the vast majority of unmanned aircraft, refers to these vehicles as remotely piloted aircraft. Budding RPA pilots first take 40 hours of flight training in Pueblo, Colorado, where they learn a real-world feel for aircraft. They then spend two to three months training in instrument simulator flying and academics at Randolph AFB in Texas. Then, advanced training is usually at Holloman AFB in New Mexico. Full training can take up to a year.
Tight Quarters
RPA pilots typically work 12-hour shifts in small, dark, office-like rooms, watching large screens and monitors as they steer drones over combat areas. These rooms are sealed tight and constantly occupied and breaks are infrequent. Watching from the skies can be monotonous. Pilots watch in endless loops, roads and compounds while tracking suspicious activity or movements among the enemy. Some pilots may watch one specific building for several weeks at a time.
It Is Still Combat
Contrary to what some might think, piloting RPAs is not like playing a video game. It is aerial surveillance and combat, meaning that remote pilots still must fire on enemies when called upon to do so. Unlike traditional aerial bombing strikes, however, RPA pilots often must keep watching the scene of destruction. This can be graphic, stressful work. Many RPA pilots suffer post-traumatic stress disorder based on images of death and suffering in which they took part.
No Respect
Though an RPA pilot may feel that her job is vital to keeping ground troops safe and reconnaissance information flowing, many RPA pilots complain that their field-serving brethren do not respect the work they do. Some traditional pilots argue that RPA pilots are in no danger and, therefore, should not be eligible for combat medals. Others find the idea of fighting remotely to be not honorable. RPA pilots must often endure such epithets from service personnel.
Photo Credits
John Moore/Getty Images News/Getty Images