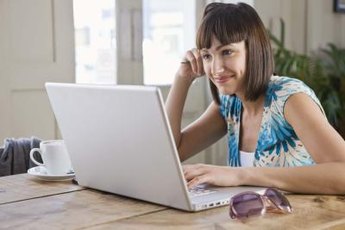 i
Jupiterimages/BananaStock/Getty Images
When crooning is replaced by crying during your morning commute, it may be time to make a change -- preferably one that ditches the car altogether. Working from home means figuring out if you want to stay in the same field or move into new territory with your already-proven skills. Once you have at least six months to a year of salary saved, you could be ready to move from the office cubical to your couch. Watch out, though -- not all home work is legitimate, but with a discerning eye you should be able to sniff out real opportunities and avoid scams.
Scam Alert
Because at-home work is so desirable, scam artists have found a niche of their own. Be aware of any ad, such as envelope stuffing, package forwarding and rebate processing -- that promises a lot of fast money. These so-called money-making opportunities usually ask for money up front and, once you sign up for additional information, they go to great lengths with e-mails and phone calls to rope you in. Sorry ladies, no legitimate job posting is going to court you. Also check out the Federal Trade Commission and fraud.org for information on companies you are interested in working for to see if any complaints are posted.
Virtual Assistant
Working as an administrative, technical and creative assistant from home means using your computer and telephone to help clients in remote locations. Virtual Assistants do everything from researching statistics and obtaining business quotes to letter writing, phone work and travel arrangements. Start by deciding which skills you want to promote -- writing, organization and sales are some possibilities -- and then join a professional organization, such as Alliance for Virtual Businesses, for support and job leads. Legitimate virtual assistant work can be found online at Guru and Virtual Office Temps, for example.
Online Teacher
With the appropriate degree and credential specific to what you want to teach, you can readily switch from a traditional classroom to an online one. According to Santa Clarita-based, 13-year veteran teacher Stephanie Sosa, being able to monitor, track and support a student's progress via your home computer opens up even more teaching and tutoring opportunities from home, including online tutoring with homework. "Teaching online is the perfect opportunity to keep a teaching credential current, since it needs to be renewed every few years," says Sosa. "The only way to do this is by having teaching and professional development hours going, and it doesn't matter if they are in the classroom or at home."
Translator
Get a translation degree in an area that you know, such as finance or medicine. Companies expand into foreign markets every day and, with international trade and global ties becoming more common among them, the need for interpretation and translation is expected to see a 42 percent increase by 2020, according to the Occupational Outlook Handbook posted by the U.S. Bureau of Labor Statistics. Most companies require a bachelor's degree, fluency in a language other than English, and may require you to pass an in-house skills test.
Web Developer/Graphic Designer
With a strong creative sense and specialized knowledge of podcasting, HTML codes and hosting, you can design your way into new career. Visit legitimate sites like Odesk and Vworker to bid on projects within your expertise. When your rate is agreed upon, ask for 50 percent up front. This helps to ensure you won't get taken by new clients. Also, sign up with an online accounting service, such as Fresh Books, to keep billing organized and painless.
What to Charge
The going rate for contract or freelance work is found online at Elance and Guru, for example, and helpful information on setting rates can be found in books, such as Kelly James-Enger's "Six-Figure Freelancing: The Writer's Guide to Making More Money." Whether you are charging by the hour or by the project, attend network meetings in your field to gain insight into competitive rate-setting, and to make connections with employers and contractors. Also, make sure to add in the cost of your medical benefits and other overhead. You need to pay your own benefits when you are self-employed.
References
Resources
Writer Bio
Based in Los Angeles, Lisa Finn has been writing professionally for 20 years. Her print and online articles appear in magazines and websites such as "Spa Magazine," "L.A. Parent," "Business," the Famous Footwear blog and many others. She also ghostwrites for mompreneurs and business owners who appear regularly on shows such as Ricki Lake, HGTV, Carson Daly and The Today Show.