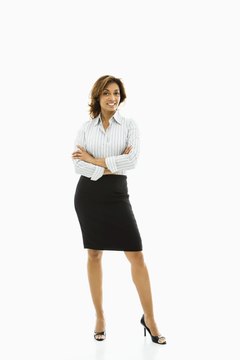 Working for apartment complexes, office buildings and other rental properties, leasing agents are generally the first staff members prospective tenants meet. From couples looking for an apartment to restaurant owners looking for a hot location in the heart of town, leasing agents work directly with prospective tenants from their first tour of a property until the day they move in. While residential agents and commercial agents may work in different environments, all leasing agents have similar duties.
Hosting Tours
Few people are willing to move into a place sight unseen, so a leasing agent will host guided tours of properties to allow prospective tenants the chance to check out a space before they commit to rent. She'll show off interesting features or amenities of a property while giving a little bit of background about the building, such as the year it was built or when it was last renovated. Agents working for apartments will also lead tours around the community to highlight neighborhood amenities, such as laundry space or swimming pools. Leasing agents need to have great selling skills as they are essentially trying to market the spaces they show.
Screening Tenants
Leasing agents are in charge of conducting thorough background checks on applicants to make sure they meet company requirements. Some properties will accept applicants with poor credit or no credit, while others may reject applicants with prior evictions or criminal convictions. A leasing agent will scour through a prospective tenant's background and then notify her that she has either been accepted or denied for the property.
Collecting Documents and Payments
Once an applicant has been accepted, it's time to sign the lease and hand over any necessary deposits or move-in fees. Leasing agents go over leases with tenants with a fine-tooth comb, explaining what each line of the lease means so renters know what kind of agreement they're entering into. They collect security and pet deposits, as well as rent every month from tenants.
Performing Walk-through Inspections
Before a tenant starts unloading the moving truck and starts getting comfortable in her new place, a leasing agent has to perform a complete walk-through of the property with her. The agent will bring along a checklist and carefully inspect every inch of the space to check for wear, tear and damage – making notes of anything she finds. She will perform a similar inspection at the end of the lease once the tenant moves out. This way, the property owner can keep track of the state of the unit, and tenants don't have to worry about being charged for existing damage.
Advertising
Whenever a new unit or property becomes available, leasing agents take to the Internet and other media outlets to make sure the public knows it's open and ready for move in. Leasing agents advertise vacant properties on community forums, real estate websites and other online resources to attract prospective tenants. They spend time writing rich descriptions that make people want to visit.
Photo Credits
Creatas Images/Creatas/Getty Images