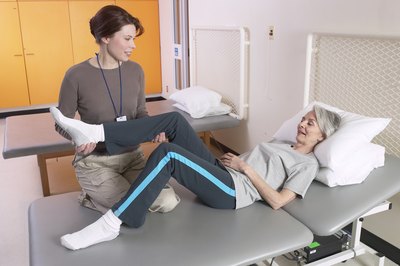 Recovering from a major accident or physical disability requires patience and hard work, and many turn to a kinesiotherapist to help them resume normal activities. Kinesiotherapists focus on therapeutic exercise and reconditioning, and stress the psychological benefits of therapeutic exercise for healing. Kinesiololgy falls under the umbrella of physical therapy, of which women make up the majority of the field. According to the U.S. Bureau of Labor Statistics, women make up nearly 70 percent of all physical therapists. Along with earning a specialized degree, kinesiotherapists can opt to earn certification to gain legitimacy in the field.
Provider
Currently, only one professional association, the American Kinesiotherapy Association, offers certification for kinesiotherapists. The nonprofit organization promotes the kinesiotherapy field and partners with the Council on Professional Standards for Kinesiotherapy to offer certification, called registration. Registration through the AKTA comes with automatic membership in the group, which includes benefits like job networking and continuing education.
Education Requirements
Each registration candidate must graduate from a degree program accredited by the Commission on Accreditation of Allied Health Education Programs. As part of the degree curriculum, candidates must take core classes in 10 areas. The core class areas include general psychology, human anatomy and physiology, neurological and pathologic foundations of rehabilitation, exercise physiology, therapeutic exercise, kinesiology, statistics, organization and administration, and motor learning. The candidate must receive a grade of C or better in each of the 10 core classes and maintain a 2.5 grade point average.
Professional Experience
Registration applicants must have written documentation of at least 1,000 hours of clinical kinesiotherapy experience. The clinical hours can come while the applicant is in school or after graduation. The candidate turns in the documented hours in the application, along with official college grade transcripts and the application fee. The AKTA mandates that all clinical hours be done under the supervision of a currently registered kinesiotherapist. The supervisor submits a letter of verification to the AKTA on behalf of the candidate.
Exam
The exam is the part of the registration process. The exam is held twice a year, in January and July. The board director notifies each applicant of her exam location, proctor's name, proctor's contact information, date of exam and time. Each applicant gets two hours to complete the written exam, which comes with an additional exam fee. The AKTA notifies applicants of their test scores four to six weeks after the exam. Some kinesiotherapy degree programs include the exam fee in the cost of tuition and fully prepare the student to take and pass the AKTA exam. To maintain certification, kinesiotherapists must take at least 12 continuing education classes each year. Continuing education credits can come in the form of conferences, workshops, seminars, lectures, college-level coursework, research projects, writing for publications and giving lectures or seminars.
Photo Credits
Hemera Technologies/AbleStock.com/Getty Images