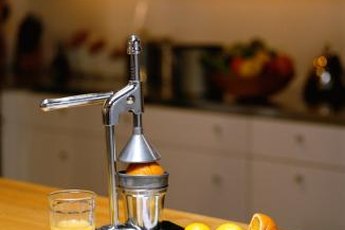 i
Creatas Images/Creatas/Getty Images
The liver is an organ that plays an important role in numerous functions and processes in the body. These include food digestion, glucose storage, blood clotting, cholesterol balancing and toxin processing. Eating a balanced diet helps to keep your liver healthy and performing optimally. Drinking freshly made juice from certain fruits, vegetables and herbs gives you nutrients in concentrated form. This can aid digestion and help cleanse the body better.
Step 1
Purchase fresh produce to make your juice. Wash all the produce carefully. Slice the grapefruit and apple into four pieces, peel and remove the seeds. Peel the beet and carrot and cut into pieces that are a size suitable to put in the juicer feed. Chop up the leafy greens into small bunches.
Step 2
Juice the grapefruit by placing each piece into the juicer feed. Grapefruit contains vitamin C and antioxidants that facilitate the natural cleansing function of the liver to help flush out toxins.
Step 3
Add the apple pieces to the juicer. Apples are high in pectin, a compound that helps to ease the cleansing function of the liver. This is because pectin binds to heavy metals in the body and helps remove them.
Step 4
Add the beet and carrot pieces to the juicer one at a time. Juices from these sweet starchy vegetables are rich in plant-flavonoids and beta-carotene to help stimulate liver function.
Step 5
Juice the leafy green bunches of spinach, argula, mustard greens or bitter gourd. These vegetables are high in plant chlorophylls, which help protect liver health by removing chemicals and pesticides from the body. They also help increase the flow of bile, a digestive fluid that also helps remove wastes from the organs.
References
Tips
Flavor your fresh juice with cinnamon, nutmeg or mint leaves.
Do not add sugar to your fresh juice as this will make it excessively sweet and also reduce it's level of healthfulness.
Drink your fresh fruit juice immediately after juicing for best results.
To thicken the juice and add dietary fiber, mix in a few spoonfuls of fruit pulp after juicing.
Warnings
Even fresh juices from fruits and vegetables, such as apples, beets and carrots, are high in natural sugars and should not be ingested in excess amounts as this can lead to weight gain.
Drinking excess fruit juices can also increase your risk of diabetes; consume these natural fruit sugars in moderation.
If you are diabetic, consult your doctor or specialist before drinking fruit and vegetable juices.
Because the peel and fiber of fruits, such as apples, are high in pectin, try adding some pulp to your juice for added benefits.
Writer Bio
Nadia Haris is a registered radiation therapist who has been writing about nutrition for more than six years. She is completing her Master of Science in nutrition with a focus on the dietary needs of oncology patients.